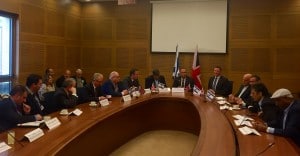 A new UK Israel Parliamentary Friendship Group was hailed by Deputy Speaker of the Knesset, Hilik Bar, as building on the "historic connection" between the two countries, at its launch at the Knesset on Tuesday.
CFI's Parliamentary Chairman, Rt. Hon. Sir Eric Pickles MP, Jack Lopresti MP, and CFI's vice-chairmen Andew Percy MP and Guto Bebb MP, attended the launch, as well as several Israeli MKs.
The group, headed by Labor MK Hilik Bar and Likud MK Yoav Kisch, aims to build ties between members of parliament in the two countries and will focus on co-operation in trade, science, education and technology.
Speaker of the Knesset, Yuli-Yoel Edelstein, attended the event to welcome the group's establishment, and expressed his "personal desire to see that this group really serves this parliament and relations between our two countries and all our best interests".
CFI's Parliamentary Chairman opened by expressing his sadness at the car ramming attack on a bus stop in Jerusalem the day before: "I would say on behalf of the delegation how sad we were at the dreadful attack on the bus station yesterday. How anybody could regard a small child as a legitimate target is just beyond imagination".
Sir Eric continued by observing that the UK faces the same threat of extremist Islam: "It's not confined to Israel. We had an attack at a London underground station not very far from where I live a few weekends ago. Some people say we are defined by our enemies and we do face a common enemy of extremist Islam".
Sir Eric continued: "The relationship between the UK and Israel does not depend on our enemies. It depends on what we are and what Israel is. The things in common – respect of the law, respect of freedom, freedom of the law, free speech. You come to Israel and you see modernity, you see progress and you see the future".
The Conservative MP concluded: "Your're important to us not just as an important strategic ally in a highly unstable region, but you're important to us because of what you represent which is the future".
MK Yoav Kisch described it as a "touching moment" and outlined his family's British connections, including his grandfather who served as a British delegate at the Versailles Conference. He concluded: "I hope that this caucus can sit together and work on the 100 years Balfour Declaration celebration but also the delicate issues between the Israel and UK governments".
MK Hilik Bar, who also serves as General Secretary of the Israeli Labor party, said: "The historic connection between Britain and Zionism started before the establishment of the state of Israel. It is not a coincidence that in almost every city in Israel there is a 'Balfour' street, and that two of our greatest presidents, Chaim Weizmann and Chaim Herzog, were of British descent. To me personally, as the son of a British mother, it is especially important to maintain and strengthen the close relationship between our two countries".
British Ambassador to Israel, David Quarrey, said: "Our new UK Israel Parliamentary Friendship Group will build relations between Parliament and the Knesset and is yet another example of the strong ties that bind our two countries together. Such parliamentary contacts are vital for thriving democracies such as the UK and Israel."