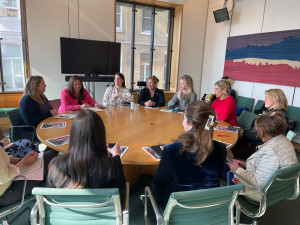 CFI hosted an event in Parliament this week, to mark International Women's Day 2022. Conservative MPs and Peers sat down for a round table conversation with Ambassador Hotovely where they discussed issues they have faced as women in politics and the challenges to overcome to encourage more women into political leadership positions.
Ambassador Tzipi Hotovely is Israel's first female Ambassador to the UK and was also a Member of the Knesset (Israeli Parliament) before moving into diplomacy.
CFI Officer Rt. Hon. Karen Bradley MP chaired the conversation. In attendance was: CFI Vice-Chairman Rt. Hon. Theresa Villiers MP, Women2Win co-founder Baroness Jenkin, CFI Officers Miriam Cates MP and Siobhan Baillie MP as well as Julie Marson MP, Baroness Altmann, Nickie Aitken and Caroline Ansell MP.
A key theme of the discussion was about the challenges of balancing working in politics and family. They highlighted that the effect that a public profile can have, specifically the social media backlash and trolling, could be a potential drawback for women who would otherwise consider a political career.
The women also shared their journeys into politics. They spoke about the importance of supporting the next intake of female candidates, and the impact that organisations such as Women2Win have had in increasing the number of successful women MPs.