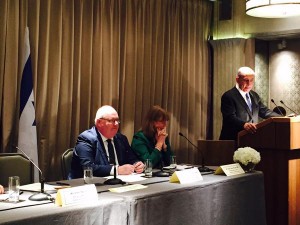 Following his meeting on Thursday morning with PM David Cameron at Downing Street, Israeli Prime Minister Benjamin Netanyahu addressed a packed room of cross-party parliamentarians and friends of Israel, including 35 Conservative MPs and Lords. The event was chaired by CFI Parliamentary Chairman Rt. Hon. Sir Eric Pickles MP.
Following his keynote address, Prime Minister Netanyahu opened the floor to questions. Among Conservatives to ask questions were Cabinet Office Minister Rt. Hon. Matthew Hancock MP, and Nadhim Zahawi MP.
Prime Minister Netanyahu  reaffirmed his commitment to restarting peace negotiations with the Palestinians, "Anywhere. Anytime. Now. Without preconditions".
He declared his determination to restart the peace process: "Because I've been to war, and peace is better…But in our part of the world, a peace you can't defend does not last".
Thanking the audience for their continued support of Israel, he said: "I thank you for the constancy of your friendship sometimes under difficult prevails", and spoke of the "Remarkable bond between Zionism and Britain…So many of our traditions linked and so much of our history intertwined".
Prime Minister Netanyahu spoke about the turbulence currently taking place in the Middle East, threats to global security, and the need for Britain and Israel to "seize the future" by furthering cooperation in cybertechnology.
But above all, he underlined his determination to restart direct peace negotiations with the Palestinians: "I'm willing right now, without any preconditions, any preconditions whatsoever, to sit down with President Abbas and negotiate this peace. I'm willing to go to Ramallah, yes, a nightmare for my security people. I often do that when I stop at falafel stands. They're going to have to deal with it. Okay? Or President Abbas can come to Jerusalem, or for God sake, we can take up some of these suggestions for retreats in Sicily or fjords in Norway. Whatever. Anytime, anywhere, now, without preconditions".
Prime Minister Netanyahu stated that the two core issues hindering a resolution to the conflict was the Palestinians' refusal to recognise Israel as a Jewish state, and ensuring that a future Palestinian state was demilitarised: "We have to ask, who will guarantee the security, because peace without security doesn't exist".