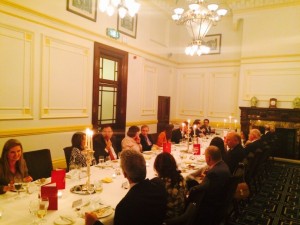 CFI this week hosted a dinner in honour of former Member of Parliament Lee Scott, which was attended by a number of his Parliamentary colleagues.
Among MPs to attend were CFI Parliamentary Chairman, Rt. Hon. Eric Pickles MP, Deputy Chairman of the Conservative Party, Rt. Hon. Robert Halfon MP, Secretary of State for Work and Pensions, Rt. Hon. Iain Duncan Smith MP, Richard Harrington MP, Immigration Minister James Brokenshire MP, and leader of the House of Commons, Rt. Hon. Chris Grayling MP.
MPs spoke about how he was missed in the House, and paid tribute to the "amazing work" he did for Israel, the British Tamil community, and his constituents in Ilford North.
During his re-election campaign this year, Mr Scott was subjected to anti-Semitic abuse and had received death threats. He was narrowly beaten by Labour in May's election by  589 votes.
Lee Scott was a strong advocate for Israel and issues affecting the Jewish community throughout his time in Parliament. He was first elected in 2005, and served on the Transport and Health Select Committees.  In 2008 Scott was shortlisted for the ePolitix Disability Champion Award – for championing the cause of autism in the House of Commons.