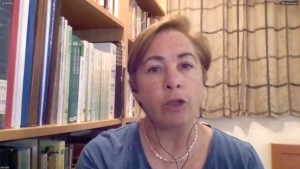 CFI hosted an informative webinar on Monday with former Israeli Government Spokesperson Col. (Ret.) Miri Eisin, who spoke about the impact of Covid-19 in the Middle East, security threats against Israel, and her optimism for the future of the region.
The webinar was chaired by CFI Parliamentary Chairman (Lords) Rt. Hon. The Lord Pickles, and attended by over 50 Conservative parliamentarians and CFI members.
Col. (Ret.) Eisin underlined in her briefing that she did not think the pandemic will bring about massive change in the Middle East, particularly as social distancing and lockdown measures brought about conditions favourable to authoritarian regimes.
Regionally, Col. (Ret.) Eisin said that Hezbollah is still continuing to bring in weapons from Iran, and using the time to recruit and plan attacks. She highlighted that Hezbollah took two positions in Lebanon's new technocrat government – including the health ministry.
Col. (Ret.) Eisin also spoke about the implications of the Syrian civil war being exported to Libya, the demographics of the region, and cooperation between Israel and the Palestinian Authority during the pandemic.
Watch the webinar here: