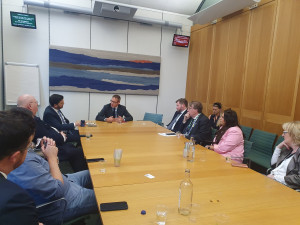 This week, CFI's Parliamentary Officer group of Conservative MPs and Lords met with the UK's Ambassador to Israel, H.E. Neil Wigan OBE, to celebrate bilateral ties and discuss how to further strengthen the UK-Israel relationship.
Ambassador Wigan updated the parliamentarians on the progress of negotiations on a post-Brexit free trade agreement, with talks set to begin later this year between the two countries following a consultation period.
The meeting was attended by CFI Parliamentary Chairmen Rt. Hon. Stephen Crabb MP and Rt. Hon. The Lord Pickles, and Honorary President Lord Polak CBE. CFI Vice Chairmen Andrew Percy MP and John Howell MP were also in attendance, as well as CFI Officers Damien Moore MP, Nicola Richards MP, Mary Robinson MP and Lord Shinkwin.