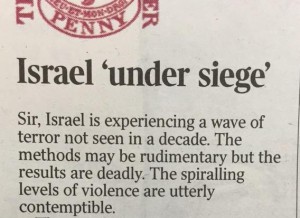 In a letter published in Wednesday's edition of The Times, CFI's Parliamentary Chairman, Rt. Hon. Sir Eric Pickles MP, and CFI's Parliamentary Officers, condemned the "utterly contemptible" wave of terror in Israel and called on the British Government to tackle Palestinian incitement. The letter reads:
Sir,
Israel is experiencing a wave of terror not seen in a decade. The methods may be rudimentary but the results are deadly. The spiralling levels of violence are utterly contemptible.
The attacks have been encouraged by continuing incitement by senior Palestinian officials. For years, Conservative parliamentarians and Conservative Friends of Israel have called on the British Government to tackle this Palestinian incitement. Enough is enough. Inaction and silence has led us to this dark place.
Faced with echoes of the devastating second intifada, the Government can no longer afford to be silent.
Yours,
Rt. Hon. Sir Eric Pickles MP
Guto Bebb MP
Bob Blackman MP
David Burrowes MP
Mike Freer MP
John Howell OBE MP
Matthew Offord MP
Andrew Percy MP
Chloe Smith MP
Dame Angela Watkinson DBE MP