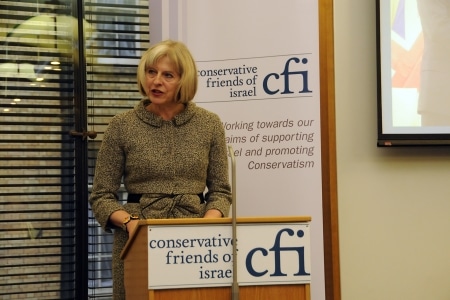 CFI's Annual Parliamentary Reception took place on Tuesday 9th September in the Attlee Suite of Portcullis House, attracting 300 people, including 50 parliamentarians and three members of the Cabinet.
CFI were delighted to welcome keynote speakers the Home Secretary, Rt. Hon. Theresa May MP, H.E. Ambassador of Israel, Daniel Taub, and James Clappison MP, CFI's Parliamentary Chairman.
Among the MPs to attend the reception was Secretary of State for Communities and Local Government, Rt. Hon. Eric Pickles MP, Secretary of State for Education, Rt. Hon. Nicky Morgan MP, former Defence Secretary Rt. Hon. Liam Fox MP, and former Chancellor of the Exchequer, Rt. Hon. Kenneth Clark MP.
Home Secretary, Rt. Hon. Theresa May MP addressed attendees in a speech staunchly supportive of Israel, asserting: "I – and the whole British Government – will always defend Israel's right to defend itself."
"It is worth re-stating the threats faced by Israel because they are considerable. There are the familiar but deadly threats from Hamas and Hezbollah. The collapse of Syria that has spawned ISIS and threatens to destabilise Lebanon and Jordan. The instability of the wider region. And the threats issued to Israel by Iran. No democratic government could, in the face of such danger, do anything but maintain a strong defence and security capability and be prepared to deploy it if necessary. That is why I – and the whole British Government – will always defend Israel's right to defend itself."

− Home Secretary, Rt. Hon. Theresa May MP, CFI Parliamentary Reception, 9th September 2014
"When Israel faces the full range of threats I have just listed, when Israel faces enemies that are intent on its very destruction, when Hamas uses Palestinian civilians as human shields for its rockets, when there are thousands of Israeli settlers living in the West Bank, it is easy to talk about a two-state solution but almost impossible to know how to move towards one."

− Home Secretary, Rt. Hon. Theresa May MP, CFI Parliamentary Reception, 9th September 2014