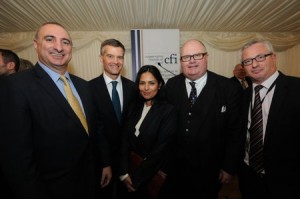 CFI's Annual Parliamentary Reception took place on Wednesday in the Terrace Pavilion in the Houses of Parliament, attracting 300 people, including 60 parliamentarians.
CFI were delighted to welcome keynote speakers the Chief Whip, Rt. Hon. Mark Harper MP, and Minister of State for Employment, Rt. Hon. Priti Patel MP.  CFI's Parliamentary Chairman Rt. Hon. Sir Eric Pickles MP, and Chargé d'Affaires at the Embassy of Israel in London, Eitan Na'eh, also spoke at the event.
Among Parliamentarians to attend the reception was former Chancellor of the Exchequer, Rt. Hon. Kenneth Clark MP, Nobel Peace Prize winner Rt. Hon. Lord Trimble of Lisnagarvey, Minister for Housing and Planning, Brandon Lewis MP, and Deputy Chairman of the Conservative Party, Rt. Hon. Robert Halfon MP.
Chief Whip, Rt. Hon. Mark Harper MP addressed attendees in the packed room with a speech staunchly supportive of Israel, in particular highlighting the UK Government's introduction of new legislation in October 2015 to curtail left-wing town halls adopting politically-motivated anti-Israel boycott and divestment campaigns.
The Chief Whip said: "One of the things this Government said it's going to do is deal with the threat of those wishing to boycott Israel. Which is why last October we made it clear that the foreign policy of the United Kingdom is set in the Foreign Office, not in left-wing town halls up and down the United Kingdom and I think that's a very big step forward to make sure that the Corbynistas, who will increasingly populate left-wing town halls up and down the United Kingdom, don't start damaging the interests of the United Kingdom and damaging the interests of Israel".
On CFI, the Chief Whip said: "CFI does a tremendous job in making sure that Conservative MPs are very well informed and very familiar with the challenges facing our relationship, and we have a very strong relationship over many years between this country and Israel".
The Chief Whip recounted his visits to Israel with CFI, and praised the trips for encouraging debate as opposed to supporters of BDS: "People don't want to listen to the argument, aren't confident that their arguments can be tested and would rather boycott Israel and shy away from having a proper, democratic debate – the sort of very lively debate that takes place in Israel".
Employment Minister and former Parliamentary Officer of CFI, Rt. Hon. Priti Patel MP gave a rousing speech underlining the shared values between the UK and Israel, and the importance of defending them. Opening her speech, she said: "I became a friend of Israel way before I became a Member of Parliament".
Rt. Hon. Priti Patel MP: "We have to reflect while we are here this evening on something that I think unites us all, and brings us together here to support Conservative Friends of Israel, and that of course is the values. The shared values that we all have when it comes to the value of democracy, the value of peace, but also the value of freedom as well. And these values apply to Israel in such a great way… Those values that all of us in this room tonight are standing up for and championing".
The Employment Minister underlined that the shared values of freedom and democracy between Israel and the UK were what made her "proud" to be a friend of Israel. She said: "It's not just about the freedom to do business between the United Kingdom and Israel, it's not just about the freedom when it comes to our people-to-people ties, it's not just about the freedom of exercising democracy in the Middle East. It's actually about the freedom to stand up and speak, and stand up for what you believe in as well. And that is what unites us all today. Which is why I am proud to consider myself as a friend of Israel, and I suspect all of you in this room are tonight as well".
On CFI, the Minister said: "We relish in the work that you do collectively at a community level, but also at a Parliamentary level as well – the delegations and the support that you all bring to our Party".
CFI's Parliamentary Chairman, Rt. Hon. Sir Eric Pickles MP, highlighted in his speech the dangers of increased anti-Semitism across Europe, as well as the intolerance of those advocating for boycotts against Israel: "Being a member of Conservative Friends of Israel is important because there is an enormous darkness stalking our country of intolerance against Israel, intolerance against Jewish people and let us be frank, anti-Semitism is on the rise".
He underlined: "It is immensely important that we speak up for the only working democracy in the Middle East. A bastion of democracy, a bastion of free speech, a bastion of civil liberties".
Charge d'Affaires at the Embassy of Israel in London, Eitan Na'eh, spoke about the challenges to peace and thanked "courageous" Members of Parliament for their friendship and standing up in support for Israel, stating particularly: "In recent weeks where we saw attacks not just on Israel, but also on our shared values".
He added: "To see this support, to see that there are people ready to stand on the right side of Israel, really is a great deal".