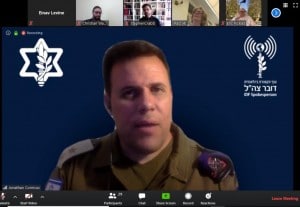 CFI hosted an online video briefing on Monday with International Spokesperson of the IDF Lt. Col. Jonathan Conricus.
Conservative parliamentarians heard about the steps the IDF are taking to help Israel tackle the coronavirus, including its cooperation with the Palestinian Authority, as well as the regional challenges posed.
The briefing was chaired by CFI Parliamentary Chairman (Commons) Rt. Hon. Stephen Crabb MP.
Lt. Col. Conricus said the IDF are taking "a myriad of efforts" led by Home Command, adding: "We support in any way we can".
Among the IDF's activities include an IDF flotilla providing compressed oxygen in what he dubbed 'Operation Breathing Air', to alleviate shortages.
Ahead of Ramadan, Lt. Col. Conricus said that the IDF had been distributing food and medicine in a Muslim community in the north of the country, as there had been a concentrated outbreak there, as well as evacuating the elderly and vulnerable.
In Bnei Brak, an Ultra-Orthodox city with a high rate of infections, Lt. Col. Conricus said 250,000 meals had been distributed by the IDF.
Lt. Col. Conricus detailed that the IDF had also converted a DNA lab into a COVID-19 testing lab, and that more than 6,000 tests had been carried out there.
When asked about the security situation in Israel and the threat level, Lt. Col. Conricus underlined that "reality continues" despite a decrease in activity from terror groups in the region. He highlighted recent incidents where Hezbollah damaged the security fence on Israel's northern border with Lebanon in three locations, that on the 26th March a Hezbollah drone was intercepted, and that there was rocket fire from Gaza on 28th March.
On Iran, Lt. Col. Conricus said it was clear that the country's leadership was reeling from the virus and its consequences, but emphasised that it does "not lead us to complacency… we remain vigilant on our borders".
Lt. Col. Conricus detailed the cooperation between the IDF and Palestinian Authority (PA), as well as the aid that COGAT has facilitated into Gaza throughout the pandemic. He said that as of Monday, 20 tonnes of disinfectant material had been delivered from Israel to the PA, as well as hundreds of testing kits to Gaza and 1,500 testing swabs.
Watch the briefing here: