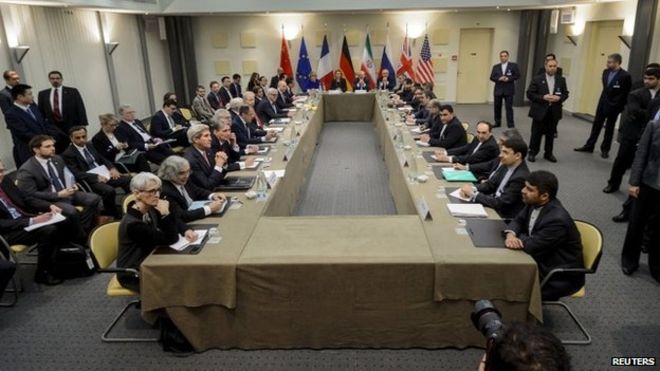 A CFI spokesperson has commented on the ongoing nuclear negotiations between Iran and the P5+1 underlining that "any permanent deal…must enforce severe limitations upon Iran's nuclear capacity in order to create the longest possible 'breakout' time".
Talks between Iran and P5+1 resumed in Lausanne, Switzerland this week, as the deadline to reach a preliminary nuclear deal is set to expire at midnight today (31st March).
"The Islamic Republic of Iran has failed to respond to the international community's legitimate concerns about its nuclear programme.
Any permanent deal, between the international community and Iran, must enforce severe limitations upon Iran's nuclear capacity in order to create the longest possible 'breakout' time. A workable deal should restrict Iran to possessing no more than 2,000 non-advanced first generation centrifuges; remain in force for an extended period of time, as long as 30 years; and, crucially, grant the IAEA unfettered access to Iran's full portfolio of both declared and undeclared nuclear-related facilities.
A deal that fails to explicitly enshrine these central principles will merely pave the way for the world's largest state sponsor of terrorism to develop nuclear weapons in the world's most unstable region". CFI statement, 26th March 2015
Following negotiations that took place through the night, Foreign Ministers from the six world powers continued with meetings early this morning in a final effort to secure a framework deal on Iran's nuclear programme.
US Secretary of State John Kerry told the press yesterday: "There is a little more light there today, but there are still some tricky issues." According to reports, German Foreign Minister Frank-Walter Steinmeier stated this morning: "we are in a bit of a crisis".
Last week, the Foreign Secretary had called on Iran to "show flexibility and take tough decisions", emphasising that "Iran must commit to a comprehensive, durable and verifiable deal – a deal that ensures Iran's nuclear programme remains exclusively peaceful". Israel and the Arab League have continued to issue strong concerns about the reported terms of the emerging nuclear deal and have criticised the P5+1 for making major concessions to Iran, and rewarding the regime for its "aggressive" backing of the Houthi rebels in Yemen.
The deadline for a final nuclear agreement is due to expire on 30th June.
In 2014, six Conservative MPs released the CFI report 'Iran's Nuclear Programme; Securing a Permanent and Comprehensive Nuclear Agreement'. Click here to read the full report.