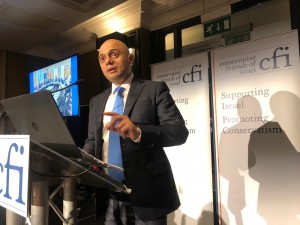 Last night, as many as 500 Conservative activists attended CFI's packed Conservative Party Conference Reception to hear the Chancellor of the Exchequer, Rt. Hon. Sajid Javid MP, address the event, as well as 6 Cabinet members and senior Ministers.
Attendees included Home Secretary Rt. Hon. Priti Patel MP, Transport Secretary Rt. Hon. Grant Shapps MP, Environment Secretary Rt. Hon. Theresa Villiers MP, Conservative Party Chairman Rt. Hon. James Cleverly MP, Solicitor General Michael Ellis QC MP, Conservative London Mayoral Candidate Shaun Bailey AM and Home Office Minister Rt. Hon. Brandon Lewis CBE MP.
Former Australian Prime Minister, The Hon. Tony Abbott, also attended the reception as well as Board of Deputies President Marie van der Zyl and dozens of Parliamentary candidates and councillors.
The event was chaired by CFI's Parliamentary Chairman in the House of Lords, Rt. Hon. The Lord Pickles, who told supporters that this year's Conference was the 49th he had attended.
CFI's Parliamentary Chairman in the House of Commons, Rt. Hon. Stephen Crabb MP, welcomed the Government's proscription of Hezbollah earlier this year, an issue that "as an organisation, we have campaigned on for years".
Mr Crabb thanked the Chancellor for proscribing the terror group during his tenure as Home Secretary and for "proving time and time again" that he is "one of the staunchest, one of the strongest, one of the most fearless defenders of Israel that we have in our Party".
The Chancellor began by lauding the strength of the support displayed annually at the CFI Conservative Party Conference reception. He said that "the CFI reception is one of those events that makes you feel that you are absolutely on the right side".
Mr Javid added: "When I look at Israel… it is a country that aligns with all of our values… it's great to see how strongly this party supports the values of Israel at every level – whether it's our Associations, our Councillors, Members of Parliament, the Government, the Cabinet and our Prime Minister".
The Chancellor expressed his "love" for the country, reflecting on his visit to the Jewish State earlier this year as Home Secretary. He described his visit to Yad Vashem, Israel's national Holocaust memorial, as "something I will never forget".
During the trip, the Chancellor became the first Cabinet Minister in 20 years to visit the Western Wall, dismissing advice from officials to bypass the holy site as "a load of rubbish". He underlined: "It shouldn't have taken two decades, but I know that many more Conservative Cabinet Ministers will follow on from that".
Mr Javid condemned rising levels of antisemitism in the UK, stating that "everyone in this room has a duty to stop it". He added: "Anyone with a sense of history knows full well why the Jewish community feels uneasy now, and nowadays we don't have to look to the past to learn, sadly you just have to look around you". The Chancellor told attendees that since he proscribed Hezbollah as a terrorist organisation in February this year, anyone flying Hezbollah flags in the UK "will go to prison".
In his subsequent remarks, the Israeli Ambassador to the United Kingdom, H.E. Mark Regev, thanked the Chancellor for proscribing Hezbollah and his work as Home Secretary.
The Israeli Ambassador said: "You can be proud… that under this Conservative Government, the Israel-UK partnership is stronger than ever before. Our trade is growing beyond the £8.6 billion we had last year, we have just signed a trade agreement so that trade will continue to grow in the years to come, that's prosperity and that's jobs".
H.E. Mark Regev added: "Our cooperation in defence and homeland security is also at a record high. In the past year we have conducted numerous joint military exercises and our round-the-clock counter-terrorism cooperation is continuing to save lives. That's good for Israel, that's good for Britain, that's good for the safety and security of the world".
He referred to Israeli Prime Minister Netanyahu's recent visit to the UK, which highlighted "the strength of our countries' partnership, a partnership that is built not only on common interests, but also on common values". Ambassador Regev said that "with the help of CFI", this partnership "will endure for many, many years to come".
The Chairman of the Conservative Party, Rt. Hon. James Cleverly MP, also addressed attendees, affirming that he is "passionate to be a Conservative friend of Israel". He said that the "really well-attended [CFI] reception… sends a signal to everybody who respects choice and freedom and diversity and the ability to live the life that you want to live without fear of attack or marginalisation".
In her remarks, Environment Secretary Rt. Hon. Theresa Villiers MP underlined her belief that "the State of Israel is a phenomenal success story, created out of adversity, surrounded by enemies, it is a country that has thrived". She added that "this country should be proud to be allies of the only true democracy in the Middle East", before reflecting on one of her last debates as a backbench MP on the subject of Jewish refugees in the Middle East and North Africa, which she described as "an untold story and an unresolved injustice".
Transport Secretary Rt. Hon. Grant Shapps MP said it was "a real privilege to be here, at CFI, at the very best party of this Conservative Party Conference". He condemned antisemitism in the Labour Party, telling attendees that "in a civilised country, in a civilised world, it must be true to say that the way that Jews are treated in society is the very definition of our civilisation". He asked: "How can it be, in the 21st century, that there is a major British party that has a problem with antisemitism?"
The Conservative Candidate for Mayor of London, Shaun Bailey AM, addressed the reception, praising CFI's work in support of Israel and the Conservative Party. He said: "The work of CFI is unbelievable, the amount of education they provide to us… the work that they do to allow people like myself to understand the trials and tribulations of the Jewish past… I've been to Israel… I've been to Yad Vashem… I've also been to Poland, to Auschwitz, and learnt so much".
If elected as London Mayor, Mr Bailey said he would take a "zero-tolerance approach to antisemitism", stating his belief that "there is no difference between anti-Zionism and antisemitism". He reiterated: "This is about squashing out racism in all of its forms".
The CFI reception was also addressed by former Australian Prime Minister, The Hon. Tony Abbott, who told those gathered that "Israel is the only liberal pluralist democracy in the Middle East", before asking: "How could anyone not be a friend of Israel?"
Board of Deputies President Marie van der Zyl thanked attendees for supporting the Jewish community and Israel, stating: "Together we have got to defeat racism and antisemitism… I'm proud of the way you are approaching all of this and of your support for Israel, the Middle East's only democracy".
Home Office Minister Rt. Hon. Brandon Lewis CBE MP thanked CFI for the "fantastic work" it does throughout the year "making sure we are getting Conservatives elected in Local Government and in that soon to be General Election". He underlined that "people like me literally would not be able to get elected if it wasn't for what you do".
Rt. Hon. Tobias Ellwood MP said that "of all the fringe movements" he had attended, "coming into this room at the back and hearing the noise that has been made here is absolutely fantastic".
Solicitor General Michael Ellis QC MP made the final remarks of the evening, stating that "Israel is a country for whom the rule of law matters". He said: "I understand, for example, it is a country whose Supreme Court regularly overrules the Government; that's democracy. It is a country that is a beacon of democracy around the world".
Mr Ellis concluded: "We support Israel, we support its people, we support its freedoms, it's a country who projects way beyond its weight, a country the size of Wales, a country with a tiny population, but a country that is admired and respected the world over, not least by Her Majesty's Government and by everyone in this room".
The event comes at the end of another successful Conservative Party Conference for CFI, as we have signed up as many as 150 new members at our exhibition stand. The CFI exhibition stand has been extremely busy with many MPs and hundreds of Conservative delegates from across the Party visiting to sample honey cake, Israeli wine, enter our raffle and read CFI literature – including the new edition of Informed Magazine, which features a letter from Prime Minister Boris Johnson.