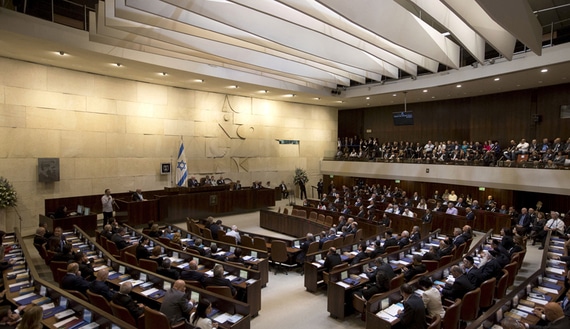 Israel's 20th Knesset was officially sworn in yesterday in Jerusalem, amidst intensifying coalition talks and wrangling for key ministerial posts.
Prime Minister Benjamin Netanyahu welcomed the lawmakers during an address to the Knesset, saying: "We should all be proud of our unique achievement; we have preserved our precious democracy".
Mr Netanyahu observed that "this is a great achievement", particularly given the fact that there is "turmoil everywhere we look".
The 120 Knesset members include 39 MKs embarking on their legislative careers, and a record 28 women MKs and 17 Arab members.
During the session, MKs were formally notified that Benjamin Netanyahu has been tasked with forming the next government by President Reuven Rivlin.
The early stages of negotiations for the formation of a new governing coalition in Israel have this week proven rocky, with Prime Minister Benjamin Netanyahu's prospective partners angling for influence.
Prime Minister Benjamin Netanyahu is widely acknowledged to be facing a difficult task in reconciling inter-party interests and ideologies, as well as steep demands for ministerial posts.
Intense coalition talks have taken place between Likud and Jewish Home, the party of Naftali Bennett who is seeking to secure a senior portfolio in the next government.
Mr Bennett has demanded either the foreign affairs or defence ministership, but his party's lacklustre showing in the elections — eight Knesset seats, down from 12 — has left it in an inferior bargaining position.
The Jewish Home leader has reportedly predicated his entry into a coalition on a senior cabinet portfolio, but his desired foreign affairs ministership is believed to have been put aside for the serving foreign minister, Yisrael Beiteinu party leader Avigdor Liberman.
According to leaks from the coalition talks, Netanyahu has offered Bennett the post of education minister, which is perceived as a demotion from his current position as economy minister.
Moshe Kahlon, leader of the 10-seat Kulanu party, has also upped his demands, pressing Netanyahu for the housing and environmental protection ministries, in addition to the already-promised Finance Ministry post.
He has also requested the chairmanship of the powerful Knesset Finance Committee, encroaching on the territory of another likely Netanyahu coalition partner, the United Torah Judaism party.
The ultra-Orthodox Shas party, which won seven seats in the election, is reportedly slated to receive both the interior and religious affairs ministries.
Mr Netanyahu has until May 7 to present his coalition to President Reuven Rivlin, with an option to extend talks by an additional two weeks.