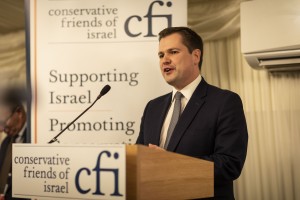 Secretary of State for Housing, Communities and Local Government, Rt. Hon. Robert Jenrick MP, described the State of Israel as "one of the great achievements in human history" and pledged to fight rising levels of antisemitism in his keynote speech at Conservative Friends of Israel's Annual Parliamentary Reception on Tuesday.
Addressing an audience of over 250 CFI supporters, including 100 parliamentarians, the Communities Secretary underlined that the Conservative Government will "keep our promise to our Jewish community" to tackle antisemitism, and "to be the Party that always fights for them".
CFI were delighted to welcome Ambassador of Israel, H.E. Mark Regev, Chancellor of the Exchequer Rt. Hon. Sajid Javid MP, Conservative Party Chairman Rt. Hon. James Cleverly MP, CFI Parliamentary Chairman Rt. Hon. Stephen Crabb MP and CFI Honorary President Lord Polak CBE, who chaired the event. The Greek Orthodox Patriarch of Jerusalem, Theophilos III, also joined attendees and relayed his prayers for "our continued friendship and mutual support".
Reflecting on his visit to Israel last week with HRH The Prince of Wales to attend the World Holocaust Forum, the Communities Secretary described the experience of leaving the "shadowy darkness" of the Yad Vashem Holocaust Memorial, and stepping out "into the brilliant sunshine of Jerusalem and seeing the hills around you". "You cannot help but be struck by the incredible achievement of the State of Israel; the sheer resilience of the Jewish people", he said.
The Secretary of State added that "the State of Israel wasn't formed because of the Holocaust, it was formed in spite of the Holocaust, despite what some people like to say", and said he "looks forward to the day our Embassy can move to Jerusalem".
Mr Jenrick announced that he is "demanding that every local council in this country adopts the International Holocaust Remembrance Alliance (IHRA) definition of antisemitism". He underlined: "Don't take public money, if you don't want to sign up to our national definition of antisemitism".
To loud applause, the Communities Secretary confirmed that the UK Government will be "legislating to make the divisive and antisemitic policies of the Boycott, Divestment and Sanctions movement (BDS) history in this country".
The Cabinet Minister reiterated that the UK would be providing £1 million to the Auschwitz Foundation, so "future generations will always see for themselves what happened". He gave his support to the Holocaust Memorial and Learning Centre beside Parliament, which "has the support of every living Prime Minister in this country, and every leader of every major faith community".
He thanked CFI for not only being "great friends of Israel", but also "great friends of the Conservative Party", particularly during the recent General Election when the CFI team travelled to 18 constituencies in support of local candidates and coordinated a number of Action Days around the country.
The Chancellor of the Exchequer, Rt. Hon. Sajid Javid MP, joined the Communities Secretary in championing the UK-Israel relationship, stating that "Israel has and will always have our unwavering support" and describing Israel as "one of our closest friends in the world".
Mr Javid said: "It won't surprise you that every Minister thinks about what they can do to further our relationship, strengthen our relationship with Israel". "When I was Home Secretary, that was one of the things going through my mind when I approached officials early on as Home Secretary and said we should end this artificial distinction that exists in Government between the 'political wing' of Hezbollah and the 'military wing' of Hezbollah. Hezbollah in its entirety is a terrorist organisation, dedicated to the destruction of the State of Israel, and we should have nothing to do with it. Let's ban the whole thing", the Chancellor continued.
Israeli Ambassador H.E. Mark Regev celebrated the UK-Israel partnership which is "based on values… we cherish freedom, we cherish liberty, we cherish the rule of law, but we're also countries who cooperate and bring tangible benefits to our people through that cooperation".
In the 70 years of full diplomatic relations between the State of Israel and the UK, marked in April this year, "our relationship has gone from strength to strength", the Israeli Ambassador said.
H.E. Mark Regev added: "There were a whole series of Conservative Prime Ministers who played an important role in strengthening the partnership with Israel. Whether it was the great Winston Churchill, or Margaret Thatcher, whether it was David Cameron or Theresa May, or whether it was the current Prime Minister Boris Johnson – all friends of Israel, all strong believers in the UK-Israel partnership".
Lord Polak CBE thanked CFI's Parliamentary Chairmen in the House of Commons and the House of Lords, Rt. Hon. Stephen Crabb MP and Rt. Hon. The Lord Pickles for their "remarkable" contributions in ensuring there are strong voices in support of Israel in Parliament.
Mr Crabb expressed his appreciation to CFI's supporters for helping the organisation go "from strength to strength". "One of the other really encouraging things for us at CFI is to see the sheer number of new parliamentary friends of Israel here this evening – I see so many of them – you are all incredibly welcome", he said.
He added: "It's a really great time to be a friend of Israel and the Ambassador has spoken very well about the levels of trade between the UK and Israel and there's so many other positive things to celebrate. But it's also a really, really important time to be a friend of Israel, because Israel still has enemies inside this institution, it has enemies outside this institution in the media, in other political parties, it has enemies all around the world. So it's never been a more important time to have a group of parliamentarians here who will stand up boldly, with passion, with intelligence and make the case for Israel".
Thank you to all of our supporters and parliamentarians who attended, and we look forward to seeing you at another CFI event soon!