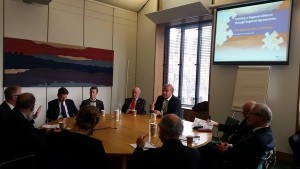 A number of Conservative Lords attended a cross-party briefing in Parliament on Tuesday with Koby Huberman, leader of Israeli Peace Initiative (IPI), an Israeli regional initiative for peace and security in the Middle East.
Among Conservatives to attend were Lord Shinkwin of Balham, Lord Sterling of Plaistow GCVO, CBE and David TC Davies MP.
Koby Huberman is a businessman, strategist and a leader of civil society diplomacy entrepreneurship who together with Yuval Rabin (the son of Yitzhak Rabin)  co-authored the IPI in 2011.
Mr Huberman spoke to Parliamentarians about the IPI Group's activities in advocating an Israeli peace initiative. The non-partisan IPI has more than 1800 signatories, consisting of prominent Israelis from various parties, who represent the pragmatic thinking in Israel, ex-Military and ex-Security figures, diplomats, business people, scholars and Middle-East experts.
He underlined that the IPI has quietly advocated behind the scenes the ignition of regional negotiations that would lead to the end of the Israeli-Arab conflict.
In addition, Mr Huberman explained that the group has developed a regional outreach network of more than 1,000 prominent people in the Arab world. He emphasised the current "tectonic shift in the Middle East", with Israel increasingly being perceived as a potential ally by some of the country's traditional enemies, as mutual regional interests have started to align.
The IPI leader also asserted that according to polling, the Israeli public were overwhelmingly supportive (80% of public) of a regional initiative opposed to previous negotiation paradigms.