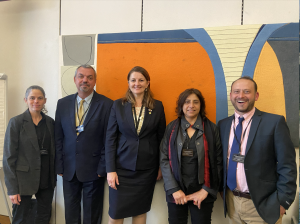 Conservative MPs and Peers joined a cross-party briefing with the Abraham Initiatives' Mixed Cities delegation, this week, hosted by CFI and chaired by Caroline Ansell MP.
The Abraham Initiatives is a shared society organisation that models solutions to enact equal and positive Jewish-Arab relations in Israel. The discussion was an opportunity for the parliamentarians to hear first-hand accounts of what actions and efforts have been taken to improve inter-communal relations and promote peaceful coexistence in the cities of Haifa and Ramla in Israel.
All four delegation participants answered the parliamentarian's questions on topics such as the availability of dual-language schools, the effect of the Abraham Accords and the importance of local policy change. They also discussed the role of the Abraham Initiatives Mixed Cities Leadership Forum in reducing tensions in their cities in the wake of the 2021 May confict.
The Israeli Abraham Initiatives delegation consisted of: Shahira Shalaby the Arab-Israeli former Deputy Mayor of Haifa who is now a city councillor and Ronen Rotstein a Jewish council member in Ramla as well as Ruth Lewin-Chen the Director of Shared Cities and Anton Goodman the International Director of Development at the Abraham Initiatives.