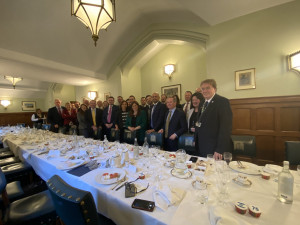 The Israeli Ambassador, H.E. Tzipi Hotovely, and over 40 Conservative MPs and Lords attended a CFI lunch in Parliament on Wednesday celebrating 75 years of Israel's independence.
The Ambassador praised the "deep, strong, value-based relationship" the UK and Israel have, which is "growing stronger and stronger".
Ambassador Hotovely also applauded the great success of the Abraham Accords which led to a "dramatic change in the region".
During the discussion, she noted the similarities between the UK and Israel's economies, both based on services. Trade Minister Nigel Huddleston MP echoed her remarks, acknowledging the "huge opportunities" between the UK and Israel, as "80% of the UK economy is services and the majority of Israel's".
The Ambassador paid homage to Winston Churchill, whose photo in Jerusalem hangs above the fireplace in her residence, acknowledging the "massive development" of Israel as a flourishing democracy and a country that "helps globally".
The discussion was chaired by CFI Parliamentary Chairman (Commons) Rt. Hon. Stephen Crabb MP and CFI Chair Hilda Worth gave a vote of thanks.
Parliamentarians' questions were also answered by Israeli Deputy Ambassador Oren Marmorstein, with attendees including former Cabinet Ministers Rt. Hon. Sajid Javid MP and Rt. Hon. Dr Liam Fox MP.