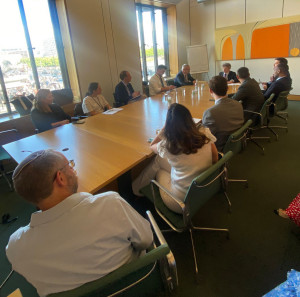 Conservative MPs and Peers joined a briefing with Israel-based disability charity Beit Issie Shapiro this week, hosted by CFI and chaired by Lord Shinkwin.
Beit Issie Shapiro (BIS) is Israel's leading developer and provider of therapies and innovative services for children and adults across a wide range of disabilities. The organisation has been operating in Israel for over 40 years and serves as a consultant to the United Nations. BIS's works with both Arab and Jewish Israelis and is the only organisation in Israel which provides disability training in both Hebrew and Arabic. The discussion was an opportunity for parliamentarians to hear how the organisation is improving the lives of disabled adults and children, not just in Israel but across the world.
The discussion was led by BIS' Executive Director, Ahmir Lerner, who previously served 22 years in the Israeli military and in the Prime Minister's office, before joining the organisation. Ahmir explained how through their work BIS have gained a unique insight into how to effectively care for those with disabilities, whilst providing them with independence. He also discussed their use of cutting-edge communication technology.
Ahmir answered the parliamentarian's questions on topics such as how modern technology can be adapted to new uses in care, the creation of early intervention facilities, how we can use data more effectively in drafting legislation and what we can do to make sure we get the right balance of inclusion and care for those with disabilities.
Ahmir said: "In Israel as a state and through the work being done at Beit Issie Shapiro we aim to fulfil the underlying right enabling inclusion, participation and engagement – the right to choose. This sounds obvious, and it is, but implementation is complicated and at times even counter intuitive". He added: "Many aspects of life are a spectrum. A spectrum along which people with disabilities can choose how they want to live".
The organisations history of providing policy consultation allowed the parliamentarians to discuss what Israel and the UK can learn from each other in creating effective legislation, which has a meaningful impact in improving the lives of those with disabilities. Such as BIS's work on successful legislation in Israel which enabled families that have children with disabilities to receive enough sick days so they can take care of their children while maintaining a job. This legislation positively effects 500,000 people in Israel.