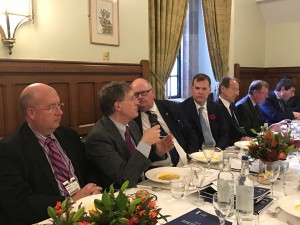 Eight Conservative parliamentarians attended a cross-party parliamentary lunch hosted by the Friends of Israel Initiative (FOII) this week to launch the latest publication in the FOII's Strategic Outlook Series.
Parliamentarians were joined by Hon. John Baird, former Minister of Foreign Affairs of Canada, Ambassador Giulio Terzi, former Minister of Foreign Affairs of Italy, and Dr Shmuel Bar, the Director of Studies at the Institute of Policy and Strategy, Herzliya.
The theme of the discussion was "The New Middle East: Regional Alliances, Western Interests and the Future of Israel Amidst the New-Old Chaos".
The speakers addressed parliamentarians on a range of issues affecting Israel, including Iran's nuclear programme and Hezbollah.
The cross-party event was co-chaired by CFI's Parliamentary Chairman Rt. Hon. Sir Eric Pickles MP and LFI Parliamentary Chairman Rt. Hon. Joan Ryan MP.
Among Conservatives in attendance were former Minister for the Middle East Rt. Hon. Alistair Burt MP, CFI's Vice-Chairman John Howell OBE MP, CFI Officers Rt. Hon. Lord Trimble and Bob Blackman MP, CFI Honorary President Lord Polak CBE, Baroness Redfern and Nigel Huddleston MP.
Among those to attend from the Labour Party included Lord Turnberg.
The FOII is an organisation created by the former Prime Minister of Spain, Jose Maria Aznar, and includes the former Prime Ministers of Australia, Canada, Peru and others among its Board.