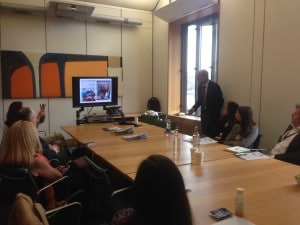 A number of Conservative MPs attended a CFI briefing event in Parliament last week, with Lt. Col. Dr Ofer Merin, a global expert in mass casualty response.
Among MPs to attend were CFI's Parliamentary Vice-Chairman John Howell OBE MP, and Royston Smith, the MP for Southampton, Itchen.
Dr Merin is the senior cardiothoracic surgeon and Deputy Director of Shaare Zedek Medical Centre in Jerusalem. He has been responsible for the IDF Home Front Command's humanitarian relief programme and field hospitals for six years and has participated personally in five missions to treat victims of national disasters, in the Philippines, Japan and Haiti and most recently, Nepal.
During the briefing, MPs were given the opportunity to ask questions and discuss Israel's relief work around the world, as well as gaining an insight into disaster management protocols at Shaare Zedek Medical Centre.
Dr Merin spoke about the complex ethical and moral dilemma for medical staff during the recent wave of violence in Israel that has been taking place since October. He explained that at times the terrorist and the victim of the attack have been treated side by side, and underlined that the staff at Shaare Zedek are "healthcare providers, not judges".
Shaare Zedek Medical Centre has treated over 130 victims of terror in the past two months. Dr Merin said the hospital has treated between 10-15 Palestinian perpetrators of the attacks, each who have received top level medical care, and where the severity of their injuries has warranted, they have been treated before their victims.
He said that at the Medical Centre, Palestinian doctors and nurses have worked to save Jewish lives, and Jewish doctors and nurses have worked to save Palestinian lives. Despite the ongoing terror threat, Dr Merin maintained that business must continue as usual, and that hundreds of Palestinian patients continue to visit Shaare Zedek from East Jerusalem, the West Bank and Gaza to receive Israeli medical care.
Dr Merin also spoke about how Palestinian physicians come to Shaare Zedek to get training from Israeli physicians, and then returned to the West Bank with their expertise.