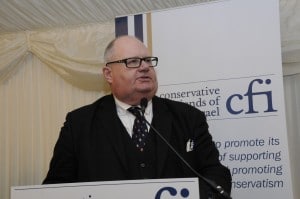 CFI's Parliamentary Chairman, Rt. Hon. Sir Eric Pickles, CFI Officers David Burrowes MP and Bob Blackman MP, and a number of Conservative MPs spoke at a House of Commons debate this week on the Holocaust, ahead of Holocaust Memorial Day next week.
The debate was secured by Labour MP for Enfield North, Wes Streeting.
Sir Eric warned about the increasing anti-Semitism sweeping across Europe today, stating: "The hon. Member for Ilford North mentioned that we travelled together to France in autumn last year to look at anti-Semitism there. I vividly recall meeting Jewish students and hearing them talk of how frightened and wary they were on their campuses. I cannot help reflecting on the disgraceful attack on Jewish students at King's College London just two nights ago. A peaceful meeting—it was literally about peace—was broken up with obscenities, the breaking of a window and the offering of violence. Frankly, we have seen broken glass before, at Kristallnacht. If we need to know who the new fascists are, we need only look at those who perpetrated that attack".
Speaking about the incident at King's College London earlier this week in which a lecture was evacuated after a protest by anti-Israel activists turned violent, Sir Eric said: "We need to understand and appreciate that it could have happened—and could happen—here. It is important to be vigilant, to speak out and to acknowledge that what happened at King's College was a disgrace. When the Minister replies to the debate, I hope he will tell us what we are going to do to protect free speech in our universities and colleges, to ensure that people can go about their business without fearing that they are going to be attacked. I look forward to the Government saying that".
He concluded his speech, stating: "I salute those who did the right thing. I salute those who stood up against the Nazis. We will remember forever those who died in such a cruel and wicked system".
CFI Parliamentary Officer, David Burrowes MP, paid tribute to the work of Holocaust Educational Trust (H.E.T.) in educating all generations about the Holocaust, and said: "Although it is essential to remember every one of the lives lost in the holocaust, we ought to keep in mind those who survived. We must remember those heroes who managed to escape and who helped others to escape the fate that the Nazis had in store for them—those who did not stand by.
The MP for Enfield and Southgate underlined: "We must ensure that we learn the lessons of the holocaust, and as we remember what happened 70 years ago and see what at times is happening now, we must provide shelter and protection for those who need sheltering. We must not be on leave during another genocide".
CFI Officer Bob Blackman MP paid tribute to the work of the Yad Vashem museum in Jerusalem, and said: "I first went to Yad Vashem 24 years ago and I have been back six times since. I have never left there without tears in my eyes. It is a deeply emotional experience. I urge hon. Members on all sides to go there and to see for themselves what happened and the history of the Nazi persecution".
He also paid tribute for H.E.T., stating: "It is vital that we continue that work, because for everyone, particularly younger generations, it is hard to fathom how human beings could do this to other human beings. I remember going—it is seared in my consciousness —to Auschwitz-Birkenau and seeing at first hand where the great synagogue used to exist. It is now just a set of trees. I saw the work camps where people were crowded in absolutely inhumane conditions, and the terrible railway that brought people to their deaths".
Speaking about the persecution of the Jewish population in the Middle East, he said: "We should remember that only 60 years ago the Jewish population in Arab countries was 2.3 million. It is now less than 100,000. They have been forced to leave their homes and are now refugees. That was another form of genocide and forced evacuation. It is clearly wrong. We must always stand up for those people and make sure that we do not stand idly by".
Robert Jenrick MP told the House about the National Holocaust Centre in his constituency in Newark, stating that it "is the only museum dedicated to the holocaust in this country, although I hope that that will change in the near future". He also spoke about his own family connections to the Holocaust, describing the story of his parents-in-law who are the children of Holocaust survivors.
Speaking personally, the MP for Newark said: "As an individual who grew up in the Church of England and walked though my village in Shropshire to Sunday school classes, it is a deep sadness and a shame to me to take my children to Hebrew classes and have to knock on the door and pass through security and sophisticated alarms so they can join four and five-year-olds learning a bit about their Jewish heritage. That is what we are fighting for today—to remember, to keep the flame alive, and to try at least to ensure that it does not happen again".
Click here to read the full debate.