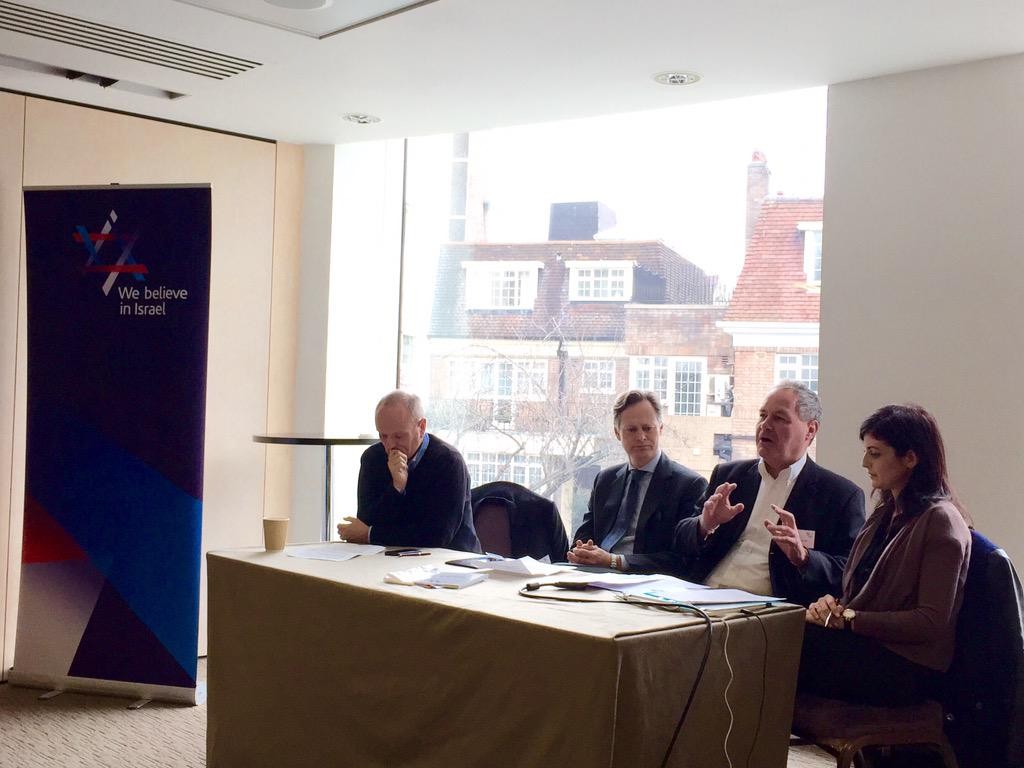 We Believe in Israel 2015, the UK's largest-ever pro-Israel conference, took place in Central London on Sunday 23rd March with a number of Conservative MP's in attendance to express their strong support for Israel, in coordination with CFI.
The bipartisan, cross-denominational conference was attendance by more than 1,500 delegates from across the UK.
Conservative Chief Whip Michael Gove told a packed audience in the morning plenary session that Israel "will never been alone".
CFI Breakout Session with Conservative MPs
CFI coordinated a successful breakout session attended by as many as 50 people entitled, "46 days to the General Election: Are the Conservatives the only viable choice for Pro-Israel voters?".
The event featured a panel consisting of Bob Blackman MP (Harrow East), Mike Freer MP (Finchley & Golders Green) and Matthew Offord MP (Hampstead).
During a lively Q&A session covering issues as wide ranging as BDS and Iran, all three MP's explained their support for Israel and why pro-Israel voters should support the Conservative Party in the coming General Election.
The MP's highlighted the Conservative Government's strong record in support of the Jewish State, including its proscription of Hezbollah's military wing, amendment of Universal Jurisdiction legislation and opposition to Palestinian unilateralism.
Identifying the Labour Party's stated support for unilaterally recognising a Palestinian state should it be in Government, Mike Free MP asserted: "A Labour Government means a Labour foreign policy, and that won't be in Israel's favour".
Bob Blackman MP stated: "Vote Conservative, because we are the only Party that is behind Israel 100%".
Both Mike Freer MP and Bob Blackman MP implored the pro-Israel community to be far more proactive in standing up and writing letters to MPs in Israel's times of need.
Matthew Offord MP condemned radicalism on British university campuses and called on universities to do more to tackle it, adding that Home Secretary Theresa May has banned 180 hate preachers from the UK.
Mr Offord MP called on the Government to continue working with European partners towards peace, and criticised President Obama's policy towards the region as counter-productive.
Turning to Iran, Mr Blackman emphasised: "Iran must never ever be able to acquire nuclear weapons".
The MP for Harrow East also expressed concerns about the Palestinian's misuse of legitimate humanitarian aid for "unintended purposes", including the construction of terror tunnels from Gaza into Israel.
Speech – Chief Whip, Rt. Hon. Michael Gove MP 
In a passionate speech touching up his memories of Israel and explaining why he is a Zionist, Chief Whip Rt. Hon. Michael Gove MP stated: "Israel, you are not alone. You will never be alone. Jewish, Christian, Muslim – we will be behind you".
The senior Conservative MP said that he feels "an enormous sense of pride in what the Jewish people have achieved in Israel".
Describing anti-Semitism as a "poisonous ideology", Mr Gove warned that anti-Semitism has increasingly taken an anti-Jewish state form.
Mr Gove strongly condemned the Boycott, Divestment and Sanctions (BDS) movement and urged the audience to respond to it, stating that it "must be confronted with the reality of what they [BDS} stand for".
Mr Gove asserted: "Israel makes an incredible contribution to the community of nations and its delegitimisation by the BDS movement must always be confronted by right thinking people. It is for this reason that I am proud to be part of this year's We Believe Conference."
The Chief Whip emphasised: "We believe in decency, we believe in fairness, we believe in humanity, and that's why we support Israel'.