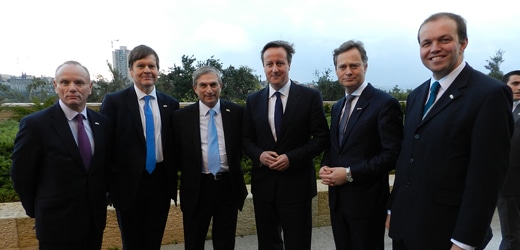 In March 2014, five Conservative MPs joined Prime Minister David Cameron on his first official visit to the country, in a CFI-led delegation.
In his address to Israel's Knesset, the Prime Minister asserted that his support for Israel was "unbreakable".
The Conservative MPs to attend the visit were CFI's Parliamentary Chairman James Clappison MP, Matthew Offord MP, David Burrowes MP, Lee Scott MP, and Mike Freer MP.
During their time in Israel, the Conservative MPs had lunch with British Ambassador to Israel H.E. Matthew Gould, and met with Yuval Steinitz, Israel's Minister for Intelligence and Strategic Affairs, and Ambassador Dore Gold, President of the Jerusalem Centre Public Affairs.
"As Parliamentary Chairman of the Conservative Friends of Israel I was honoured to lead a delegation of my Conservative colleagues to Israel for the PM's landmark visit to the region. The Prime Minister's speech once again confirmed that the Anglo-Israel relationship is stronger than ever and in David Cameron Israel has a staunch friend and ally."

− James Clappison MP, CFI Parliamentary Chairman
"It is privilege to be able to join the PM's visit to Israel to reaffirm our long and close relationship both politically and economically. I was especially pleased to hear that Shechita is safe, as confirmed by the Prime Minister."

− Mike Freer MP
"I am delighted to be part of our Conservative Prime Minister's visit to Israel, after raising the issue with him at Prime Minister's Questions in November 2013. This is an excellent opportunity for the Prime Minister to see the work between the Anglo-Jewish community and the close link between our two countries."

− Matthew Offord MP
"It is an honour to be on this historic visit with the PM. Hearing his first class supportive speech at the Knesset and his reaffirmation of our support and friendship towards the state and people of Israel and to attend the various ceremonies has been a privilege."

− Lee Scott MP
"I was delighted to join the PM on this historic visit, which comes at such a significant time for Israel and the wider region. The Prime Ministers speech demonstrates the crucial and long-standing friendship between Britain and Israel and the important role that Britain has in supporting the state of Israel."

− David Burrowes MP