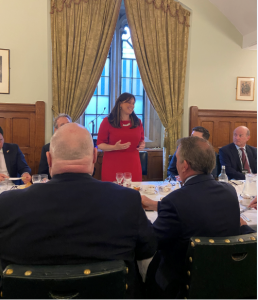 Over 30 Conservative MPs and Peers celebrated Israel's 74th Independence Day with Israeli Ambassador to the UK H.E. Tzipi Hotovely during a Q&A discussion this week at a lunch hosted by CFI in Parliament.
The event was a chance for MPs to ask the Ambassador any questions they had about Israel or the Israel-UK relationship. A vast array of topics were discussed including Israel's support for Ukraine, Israel's response to terrorism and the threat of Iran as well as UK-Israel trade, food security and energy production.
Ambassador Hotovely thanked the MPs for their "friendship" and underlined that the current British Government is "one of the most supportive" that Israel has experienced, with that support shown in actions, not just words.
The Ambassador spoke about the UK-Israel relationship, emphasising that the UK is Israel's second closest strategic partner, and third largest trade partner. She highlighted that "health cooperation" is the area in which she is "most proud", particularly the trial-project bringing Israeli digital health technologies to a hospital in northern England. She stated that cooperation within the security sector is "stronger than ever" especially in fighting terrorism together.
Both nations "fight for the same values", Ambassador Hotovely said as they are both "freedom loving democracies". She added that Israel's "biggest challenge" is the threat from Iran, and thanked the UK for its diplomatic support in challenging Iran.
The discussion was chaired by CFI Parliamentary Chairman (Commons) Rt. Hon. Stephen Crabb MP and CFI Parliamentary Chairman (Lords) Rt. Hon. The Lord Pickles closed the discussion with his thoughts. MPs questions were also answered by Israeli Deputy Ambassador Oren Marmorstein.