Earlier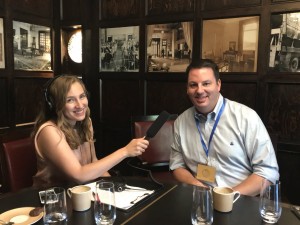 this week, five Conservative parliamentarians visited Israel with CFI for the annual International Institute for Strategic Leadership Dialogue, which brings together legislators, business leaders and opinion formers from across the political spectrum.
The group included CFI Vice-Chairmen Andrew Percy MP and John Howell OBE MP, CFI Officers Rt Hon Lord Trimble and Will Quince MP, and Jack Lopresti MP.
The dialogue was formerly known as the Australia UK Israel Leadership Dialogue, which started in 2012.
The objective of the annual dialogue is for leaders from the three nations to get together in a private, non-partisan setting to discuss issues of strategic relevance. This year, there were additional international representatives including participants from the United States.
The dialogue consisted of discussions with Israeli parliamentarians and officials, meetings with local technology start-ups, and symposia on the future of the Middle East.
A number of Israeli Knesset Members participated in the dialogue, including Hilik Bar MK, Deputy Speaker of the Knesset and the Secretary General of the Israeli Labour Party and Michael Oren MK who is Deputy Minister for Diplomacy in the Prime Minister's Office.
Lord Trimble opened the conference in Jerusalem on behalf of the cross-party UK delegation, which included parliamentarians from Labour Friends of Israel.
Each parliamentarian spoke on panelsduring the conference discussing a variety of issues, with John Howell OBE MP condemning Iran's human rights abuses and breaching of UN resolutions, Will Quince MP discussing the influence of social media on politics, and Jack Lopresti MP discussing post-ISIS threats.
As well as discussing the impact of Brexit during a cross-party panel, Andrew Percy MP recorded a podcast with the Israel Project about the Conservative party's support for Israel, and raised his concerns about rising antisemitism.
He reflected on His Royal Highness the Duke of Cambridge's "really positive visit" to the region last month, adding that "having the future King of Great Britain here in Jerusalem, in Israel, should send a really strong message to Israelis about the security and future of their country".
Listen to the full podcast here.