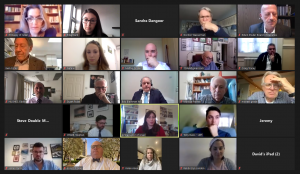 Today, 15 Conservative MPs and Lords joined a webinar hosted by the Britain-Israel All Party Parliamentary Group (APPG) to mark the annual commemoration of the expulsion of Jewish refugees from Arab countries and Iran in the 20th Century.
The event was chaired by CFI Officer Bob Blackman MP, with an introduction from Israeli Ambassador H.E. Tzipi Hotovely and a keynote address from Professor Irwin Cotler, an international human rights lawyer, former Minister of Justice and Attorney General of Canada.
Mr Blackman described the "ethnic cleansing" of Jews in the Middle East and North Africa, when over 850,000 Jews faced persecution and were forced to flee their homes. Prior to their expulsion, there had been a continuous presence of Jews in these countries for 2,000 years.
Professor Cotler briefed parliamentarians on the lack of international recognition of the experience of Jewish refugees, despite numerous UN initiatives recognising the plight of Palestinian refugees. He underlined the importance of "correcting the false narrative" around the issue and detailed recent international efforts to ensure recognition of this injustice.
CFI Honorary President Lord Polak CBE highlighted that the latter part of the 1917 Balfour Declaration, that "nothing shall be done which may prejudice… the rights and political status enjoyed by Jews in any other country", is often overlooked by the international community and had regrettably not been upheld in Arab countries.
Attendees at the informative webinar included CFI Parliamentary Chairmen Rt. Hon. Stephen Crabb MP and Rt. Hon. The Lord Pickles and CFI Officers Rt. Hon. Karen Bradley MP, Matthew Offord MP, Craig Tracey MP and Christian Wakeford MP.
Also in attendance were Rt. Hon. Robert Halfon MP, Eddie Hughes MP, Steve Double MP, Rt. Hon. Lord Taylor of Holbeach CBE, Lord Wasserman, Lord Grade of Yarmouth CBE and Lord Gold.
Following the first ever debate on the subject in Parliament last year, led by CFI Vice-Chairman Rt. Hon. Theresa Villiers MP, the UK Government underlined that any peace settlement between Israel and the Palestinians must include recognition of the plight of Jewish refugees as well as Palestinian refugees.
The Jewish population outside of Israel in the region fell from 856,000 in 1945 to barely 4,000 today. Both Algeria and Iraq each had over 140,000 Jews living there 50 years ago; now there are none in either nation. Jews fled in their tens of thousands from Egypt, Morocco, Yemen, Lebanon, Syria and Iran after years of discriminatory legislation and violence.
Harif, the Association of Jews from the Middle East and North Africa, has urged parliamentarians to call for recognition of the "unresolved injustice" of the flight of Jewish refugees from the Middle East and North Africa on 30th November, the official day to commemorate the exodus.