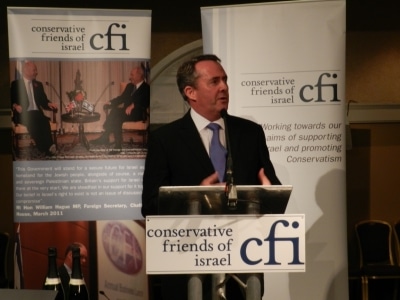 CFI's Reception at Conservative Party Conference 2013 proved to be a highly successful evening as former Defence Secretary Rt. Hon. Liam Fox MP addressed a crowd of 400 Conservative Parliamentarians, activists and supporters.
The event was also addressed by Northern Ireland Secretary, Rt. Hon. Theresa Villiers MP, and Ambassador of Israel, H.E. Daniel Taub. Communities Secretary, Rt. Hon. Eric Pickles MP, Party Chairman, Andrew Feldman, and Treasury Minister, Sajid Javid were also in attendance.
During his speech, Dr Fox rebutted the "utterly simplistic" claim by some that solving the Israeli Palestinian issue would unlock all other problems in the region, asserting that much of Middle Eastern instability "has nothing whatsoever to do with that particular relationship."
Dr Fox also focused his words on shared British and Israeli values "of liberty, of tolerance, of free markets." He stated that these values made Israel "a beacon in the Middle East."
Northern Ireland Secretary, Rt. Hon. Theresa Villers MP also addressed the crowd and expressed her continued and consistent support for the State of Israel. Villiers: "I am very proud to call myself a friend of Israel and very proud to call myself a Zionist as well."
Villiers touched on the shared values of the Conservative Party and the Jewish State, particularly the "strong support for aspiration" that both nations have in common. Ms Villiers: "Like Israel, Conservatives are on the side of people who want to get on in life and do right by their family."
On the Tuesday evening, CFI was delighted to sponsor a community engagement event hosted by the Conservative Party's 40 40 Campaign. The event was addressed by Prime Minister David Cameron and was attended by the various 'Conservative Friends of…' groupings from across the Conservative Party.
The Prime Minister spoke of the importance of the 'Friends of…' groups within the Conservative Party and underlined his support for them.
CFI were also pleased to host a 40 40 Campaign event with the local Manchester community. Guest speaker was Communities Secretary, Eric Pickles and the event was kindly hosted by Deloitte.
Attendees included Richard Harrington MP for Watford, Mary Macleod MP, and Jessica Lee MP, as well as local Manchester businessmen.
The CFI exhibition stand was a hive of activity all week with hundreds of Conservative delegates from across the Party visiting to sample Israeli wine, read CFI literature – including the new edition of Informed magazine – and sign up for membership of CFI. CFI signed up over 100 new members.
In addition to the many MPs that visited the exhibition stand, CFI welcomed to the stand a number of cabinet Ministers including Foreign Secretary Rt. Hon. William Hague MP, Communities Secretary Rt. Hon. Eric Pickles, Chief Whip Sir George Young and Attorney General Rt. Hon. Dominic Grieve.
CFI would like to thank everyone who supported us and visited our stand; we hope you enjoyed your time at Conference!
"What we (UK and Israel) have in common is a shared belief in the values of liberty, of tolerance, of democracy, of free markets. These are the things that have made Israel a beacon in the Middle East. These are the things that have made the UK in our history the power that we have been and continue to be. It is our values that are more important than anything else. You either shape the world around you or you will be shaped by the world around you. It is the values we share, the beliefs that we have in common and the vision for the world around us, that is what will help shape something much better in the future."

− Rt. Hon. Liam Fox MP, CFI Reception at Conservative Party Conference, 1st October 2013
"Some say that if only you unlocked the Israeli Palestinian issue that everything else would fall into place, that that was the one thing that was holding back the region and causing instability. Well it looks to me there is a fair bit of instability in the region that has nothing whatsoever to do with that particular relationship. The idea that if you solve one part the rest will, domino like, fall into place, is utterly simplistic and in my view quite wrong."

− Rt. Hon. Liam Fox MP, CFI Reception at Conservative Party Conference, 1st October 2013
"Now I have been coming to CFI receptions for about 15 years or so and I am very proud to call myself a friend of Israel and very proud to call myself a Zionist as well. And people tend to assume my interest in Israel is a consequence of the fact that I am able to represent a constituency that contains a large and highly successful Jewish community. But actually that is to get the causative link the wrong way round. One of the main reasons I applied some years ago to become the candidate for Chipping Barnet was because of my high regard for and my long term affinity with the Jewish Community. Growing up as I did in St John's Wood, from my earliest years I was able to see at first hand the incredibly positive influence the Jewish community has on our culture, our economy and our civic life in this country."

− Rt. Hon. Theresa Villiers MP, CFI Reception at Conservative Party Conference, 1st October 2013
"Working to increase and hold fast the sanctions against Iran, is precisely what will help make a safer Middle Eastern world possible. Working to deepen the trade relationship between us, doubling trade in the past 10 years has also been a great way to move things forward… Trade with the UK is going from strength to strength, up this year on last year by 7.9%."

− H.E. Ambassador Daniel Taub, CFI Reception at Conservative Party Conference, 1st October 2013