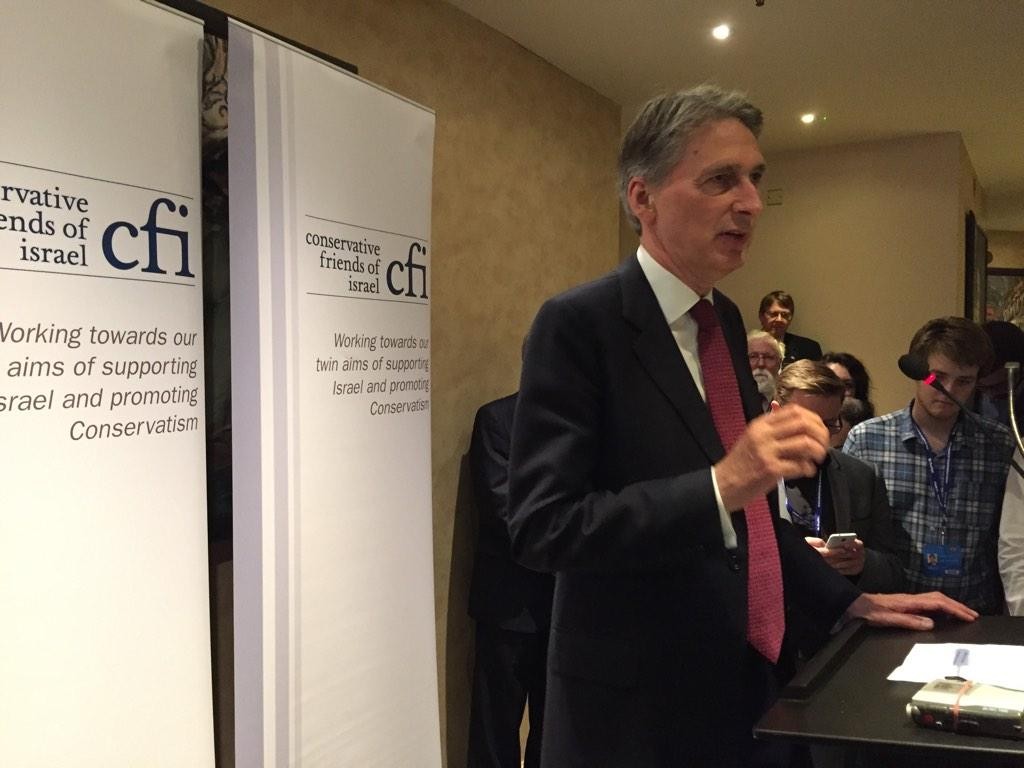 CFI's Reception Conservative Party Conference 2014 in Birmingham proved to be a highly successful evening on Tuesday 30th October, as Foreign Secretary Rt. Hon. Philip Hammond MP addressed a 400-person strong crowd of Conservative parliamentarians, activists and supporters.
During his speech, the Foreign Secretary staunchly re-iterated Israel's right to defend itself from Hamas rocket attacks and terrorism. Foreign Secretary Philip Hammond: "We are absolutely clear that Israel has the right to defend itself. We are absolutely clear that there is no justification at all for the rocket attacks that have been launched out of Gaza into Israel."
The event was also addressed by Ambassador of Israel, H.E. Daniel Taub, and Northern Ireland Secretary, Rt. Hon. Theresa Villiers MP.
In her strongly supportive speech, the Northern Ireland Secretary asserted: "The truth is that Labour failed Israel at their time of need".
H.E. Daniel Taub, Ambassador of Israel praised the British Government for their steadfast support over the summer: "It is so important to have voices of principled moral clarity, of understanding and support. Amongst the clearest of those voices, were the voices of Prime Minister David Cameron, of Foreign Secretary Philip Hammond, of the current government and the Cabinet.
Party Chairman, Lord Feldman, Education Secretary Rt. Hon. Nicky Morgan MP, Welsh Secretary Rt. Hon. Stephen Crabb MP, Foreign Office Minister Tobias Ellwood MP and former Defence Secretary Rt. Hon. Liam Fox MP, were also in attendance, alongside dozens of Conservative Members of Parliament.
In addition to the packed reception, the CFI exhibition stand was a hive of activity all week with hundreds of Conservative delegates from across the Party visiting to sample Israeli wine, read CFI literature – including the new edition of Informed magazine and CFI's Iran report – and sign up for membership of CFI, with over 130 new members.