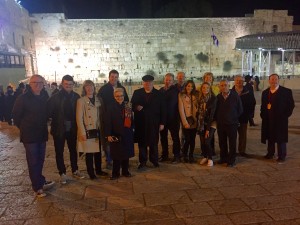 Participants: Rt. Hon. Sir Eric Pickles MP, Rt. Hon. Lord Trimble of Lisnagarvey, Guto Bebb MP, Andrew Percy MP, Jack Lopresti MP.
In December, five Conservative parliamentarians participated in the annual Australia Israel UK Leadership Dialogue, bringing together legislators, business leaders and opinion formers from across the political spectrum from the UK, Australia and Israel.
Among those to attend were over 10 Australian MPs, and dozens of Israeli Knesset Members, including the leader of Yesh Atid, Yair Lapid, Michael Oren, Hilik Bar, Avi Dichter, and Gilad Erdan, the Minister of Public Security and Strategic Affairs.
The Dialogue gave the parliamentarians the opportunity to explore issues of mutual strategic interest and to encounter first-hand a range of views about them.
During their visit, the delegates met with a range of NGO's and businesses, including Palestinian Media Watch's Director Itamar Marcus and the Middle East Entrepreneurs of Tomorrow (MEET) who work to bring young Israeli and Palestinians together through technology and entrepreneurship.
The group visited  JVP Media Quarter in Jerusalem, where they explored how technology, creativity and social action are fused together in the complex located in the renovated National Mint built by the British Empire in 1937.
The itinerary also featured a day of discussion in the Knesset on a range of issues including Iran and Boycotts, Divestment, and Sanctions issue.
On Sunday, the delegates visited the West Bank where they met with Palestinian Authority President Mahmoud Abbas, and the Minister of Education Sabri Saidam, where several parliamentarians raised the issue of Palestinian Authority-sanctioned incitement.
In addition, the delegates were given tours of Jerusalem's Old City, Masada, and the Dead Sea.
On Tuesday, the delegates attended the launch of a new UK-Israel Parliamentary Friendship group in the Knesset. The group, headed by Labor MK Hilik Bar and Likud MK Yoav Kisch, aims to build ties between members of parliament in the two countries and will focus on co-operation in trade, science, education and technology.
Commenting on the visit, CFI's Parliamentary Chairman, Rt. Hon. Sir Eric Pickles MP said: "I am delighted to be participating in my first Australia Israel UK Leadership Dialogue. It is a particular pleasure to be leading a British delegation comprising some of Israel's greatest friends from both sides of the political spectrum. These are the people that stand up in Parliament and speak in support of Israel in both good times and, most tellingly, harder times. That is the sign of true friendship".