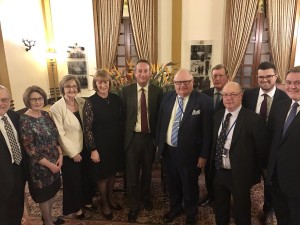 Participants: Rt. Hon. Sir Eric Pickles MP, Rt. Hon. Matt Hancock MP, Rt. Hon. Alistair Burt MP, Rt. Hon. Lord Trimble of Lisnagarvey, Will Quince MP
In December, five Conservative parliamentarians participated in the annual Australia Israel UK Leadership Dialogue, bringing together legislators, business leaders and opinion formers from across the political spectrum from the UK, Australia and Israel.
CFI's delegation of five parliamentarians was led by CFI's Parliamentary Chairman Rt. Hon. Sir Eric Pickles MP. The Conservative delegates were: Minister for Digital and Culture, Rt. Hon. Matt Hancock MP, former Middle East Minister Rt. Hon. Alistair Burt MP, and CFI Officers Rt. Hon. Lord Trimble of Lisnagarvey and Will Quince MP.
Labour Friends of Israel's delegation of four parliamentarians was led by their Chair Rt. Hon. Joan Ryan MP.
Among those to attend in the Australian delegation were over eight MPs, including former Prime Minister Tony Abbott, as well as leading Australian journalists.
Over 13 Israeli Knesset Members participated, including the leader of the Labor Party and Zionist Union faction, Isaac Herzog, Michael Oren, Hilik Bar, Avi Dichter, Justice Minister Ayelet Shaked, and Yuval Steinitz, the Minister of National Infrastructure, Energy, and Water.
The Dialogue gave the parliamentarians the opportunity to explore issues of mutual strategic interest and to encounter first-hand a range of views about them.
During their visit, the delegates met with a range of NGOs and businesses, including Palestinian Media Watch's Director Itamar Marcus, Israeli humanitarian aid agency IsraAID, and the Mayor of Jerusalem, Nir Barkat.
The group also met with Chaguy Tzuriel, the Director General of Israel's Ministry of Intelligence.
The itinerary also featured a day of discussion in the Knesset on a range of issues including Iran, Brexit, and the U.S.
In addition, the delegates were given tours of Jerusalem's Old City, Masada, and the Dead Sea.
Commenting on the visit, CFI's Parliamentary Chairman, Rt. Hon. Sir Eric Pickles MP said: "I am delighted to be back in Jerusalem with so many friends to participate in my second Australia Israel UK Leadership Dialogue. This year has been filled with unprecedented political events, from the UK's dramatic vote to leave the European Union and Theresa May taking over from David Cameron at No.10 Downing Street, through to the nail-biting Australian federal election and the surprise election of Donald Trump. Each of these seismic developments will stand to have a significant impact on Israel, but I have no doubt that each of our great countries will deepen their ties with the Jewish State and Israel will be all the stronger for it".