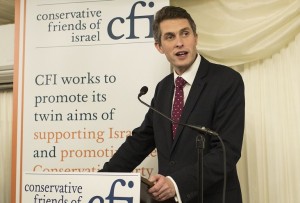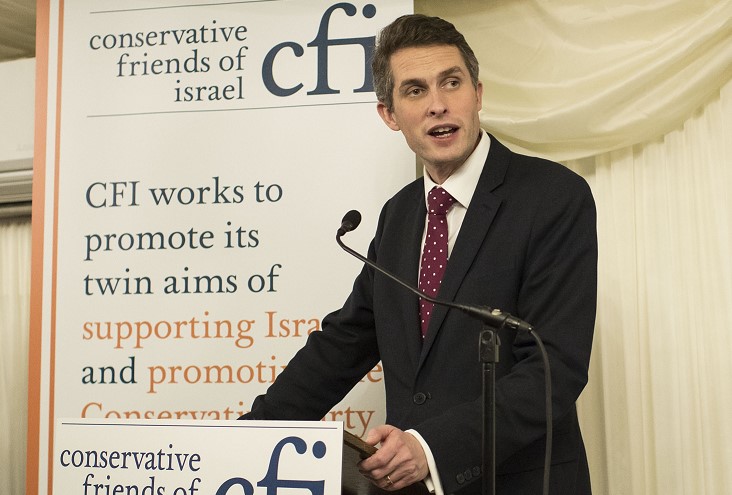 Secretary of State for Defence, Rt. Hon. Gavin Williamson MP, underlined that "Britain will always be Israel's friend" at Conservative Friends of Israel's Annual Parliamentary Reception on Tuesday.
Addressing an audience of over 250 CFI supporters, including 50 parliamentarians, the Defence Secretary praised Israel as a "beacon of light and hope, in a region where there is so much hatred and hurt". He emphasised: "We shouldn't underestimate how difficult it is to keep that light bright and burning".
CFI were delighted to welcome Ambassador of Israel, H.E. Mark Regev, and CFI Parliamentary Chairman Rt. Hon. Stephen Crabb MP, and CFI Treasurer Stephen Massey who also spoke at the event.
Among Parliamentarians to attend the reception were Defence Procurement Minister Guto Bebb MP, Cabinet Office Minister Chloe Smith MP, former leader of the Conservative Party Lord Howard of Lympne, Rt. Hon. Ken Clarke MP, and CFI Vice-Chairmen John Howell OBE MP, Rt. Hon. Theresa Villiers MP, and Andrew Percy MP.
Speaking of his visit to the country as a teenager, Mr Williamson said: "I didn't quite know what to expect of Israel. What I found was a liberal, free, exciting country that was so at ease with itself, a country that absorbed and welcomed so many people. That made an enormous impression upon me".
Mr Williamson condemned the often "completely unreasonable…sheer simple hatred" channelled towards Israel. He asked: "If we are not there to stand up for a country, whose views and ideals are so close, or are simply our own, what are we as a nation? What are we in politics, if we cannot accept and celebrate the wonderful blooming of democracy that is Israel, but instead always turn to a narrative of spite, envy?"
Highlighting the UK's role in the creation of Israel, Mr Williamson said: "Britain and Israel have an amazing relationship. We would like to think that we were very much at the birth of the nation, and very much helped it in terms of its delivery and coming into the world".
He said that Britain and Israel have "a strong and firm relationship of working together. It's a relationship of partners. We learn a lot from Israel and I hope that Israeli forces also a little from us. It's a partnership of equals. A partnership of friends".
Defence Secretary Williamson praised Israel for its "impressive" military investment. He asserted: "Israel has to take its defence so seriously. If it does not take its defence seriously then it is not protecting itself as a nation".
He underlined: "Britain will always be there to work with you, support you, and be one of your closest and best friends. Our relationship with [Israel] is the cornerstone of so much of what we do in the Middle East, and I look forward to having the opportunity when I am Defence Secretary to continue to build on that".
Mr Williamson thanked CFI for its work, stating: "You make sure that Israel has a clear voice in the British Parliament, making sure that the issues of Israel are properly heard and understood".
Ambassador of Israel, H.E. Mark Regev said that "in the 70 years since Israel's rebirth, and the establishment of diplomatic relations between our two countries, the world has changed substantially… But some things have not changed. The staunch friendship of so many Conservative Friends of Israel for the partnership between our two democracies is something that has not changed".
CFI Parliamentary Chairman, Rt. Hon. Stephen Crabb MP thanked supporters of CFI, asserting that "there's never been a more important time for there to exist an organisation called Conservative Friends of Israel. There's never been a more important time to restate the case for Israel".
Mr Crabb underlined that CFI are "absolutely committed" to fighting against those who seek to delegitimise Israel.
Treasurer of CFI, Stephen Massey, thanked CFI's "loyal supporters who always turn up in great numbers at our events. It's massively appreciated – MPs and ordinary CFI members. We will continue to do whatever we can do to make sure Israel's voice is heard".