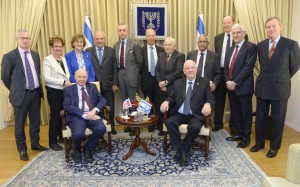 The first ever cross-party delegation of peers to visit Israel have held talks with President Rivlin on the second day of their historic mission.
Led by Lord Turnberg, the All-Party Britain-Israel Parliamentary Group delegation is made up of 11 Conservative, Labour, Liberal Democrat and cross-bench peers.
The Conservative peers in attendance include Rt. Hon. Lord Hamilton of Epsom, Lord Leigh of Hurley, CFI's Honorary President, Lord Polak CBE, Rt. Hon. Lord Robatham, and Lord Rotherwick.
President Rivlin expressed appreciation for the work undertaken by British parliamentarians to combat anti-Semitism.
President Rivlin said: "We greatly appreciate your coming, as a cross-party delegation, to engage with the realities on the ground in Israel and the region. These are difficult days and we all have a duty to work together to build understanding between all peoples. Israel is a Jewish, democratic state which upholds the rule of law – indeed our judicial system in Israel was built by the British in the days of the Mandate – and it is a great pleasure to speak with you about how we are both facing the challenges of today".
He added: "We appreciate the work that the British Parliament is doing, in partnership with the Jewish community, to combat anti-Semitism. This is an important challenge which requires a firm and united approach".
Simultaneously, nine Conservative MPs, including seven from the new 2015 intake, are also in Israel a part of a CFI delegation.
As well as accompanying minister Matthew Hancock to a meeting with Benjamin Netanyahu where he will set out new plans to prevent boycotts of Israel, the delegation's schedule includes meetings with Supreme Court justices and Yesh Atid leader Yair Lapid.
CFI Vice-Chairman, John Howell OBE MP, who is leading the group, said: "This is a much-welcomed step by the Government to stop councils interfering in national foreign policy by boycotting a democratic ally. It's fitting that the minister is making this much-anticipated announcement in Jerusalem with such a large delegation of MPs and cross-party peers in attendance".