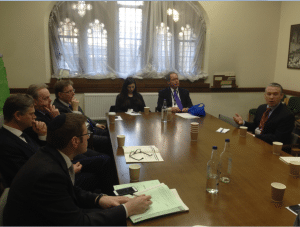 Conservative MPs were briefed this week in Parliament by leading American expert on counterterrorism and Middle East scholar, Dr. Jonathan Schanzer, from the Washington DC-based think tank The Foundation for the Defense of Democracies (FDD).
Among MPs to attend were CFI's Vice Chairmen, John Howell OBE MP, Guto Bebb MP, and CFI Officers Matthew Offord MP, and Bob Blackman MP.
Dr. Shanzer addressed the MPs on a number of issues, including the Iran nuclear deal, the activities of ISIS/Daesh, Hezbollah, and boycotts of Israel.
Speaking on Iran, the FDD Vice-President for Research said that the $100 billion pocketed by the Iranian regime through sanctions relief after the July nuclear deal between Iran and P5+1 world powers was particularly concerning.
Dr. Shanzer also said that although Hezbollah had lost an estimated 1,500 fighters in Syria, the re-armament the organisation to accumulate an arsenal of 150,00 high-precision rockets was of concern.
Speaking about ISIS/Daesh, Dr. Shanzer said that the election of a new American President would likely change the US approach in defeating the terror group, and said the current efforts of the international coalition was very limited.
The talk was followed by a discussion and number of questions asked by MPs.