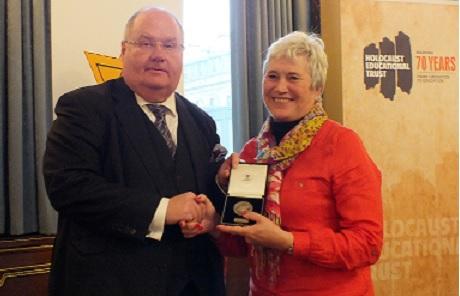 Secretary of State for Communities and Local Government, Rt. Hon. Eric Pickles MP,  honoured three British heroes of the Holocaust and a range of initiatives to ensure that the Holocaust is never forgotten, at a special event in London this week.
Mr Pickles underlined: "Individual stories and survivor testimonies provide the tools we need to help tell stories that are sometimes too shocking for words. It is all of our collective responsibility to educate future generations about the horrors of the Holocaust and never to forget why we need to challenge and combat the forces of hate".
Mr Pickles presented medals to the families of William Ernest Fishers, Edwin Alan Hambling and Bill Keeble, three British men who risked their lives to save a young Jewish girl in Nazi-occupied Poland.
The three men were part of a group of ten British prisoners of war who saved 15-year-old Lithuanian-born Sara Rigler, by helping her escape from a death march outside Danzig in Poland. The men smuggled her into the Gross Golmkau camp and hid her in a hayloft. Had Sara been discovered, all 10 prisoners would have been executed.
All 10 British prisoners of War have been recognised by Yad Vashem as Righteous Among the Nations and now the families of all ten have been presented with the commemorative medal.
Communities Secretary Pickles said: "In the midst of the darkest days of human history, William Fisher, Edwin Hambling and Bill Keeble and their fellow prisoners of war, were shining beacons of hope.  At a great risk to themselves they showcased the very best of British values – tolerance, respect and compassion – to save the life of a stranger. Their greatest legacy is the long and full life that Sara Rigler has enjoyed but I hope that this medal will help ensure that their acts of bravery, in risking their lives for others, will never be forgotten".
Later at the event, the Communities Secretary launched a range of initiatives to ensure that the Holocaust is never forgotten. These include: the 3D scanning of Bergen-Belsen to help British people understand the size and scale of the death camp; the production of 100-150 ultra-HD filmed survivor testimonies to ensure powerful speakers stories are enshrined in history; and the creation of a new interactive survivors testimony film for the National Holocaust Centre in Newark to create a life-like conversation between learners and survivors.
Mr Pickles also launched an international project enabling Holocaust survivors to complete a Torah scroll saved from the Nazis. At the event, a group of Holocaust survivors took the first steps in restoring a Torah that was discovered last year by Warsaw University students.