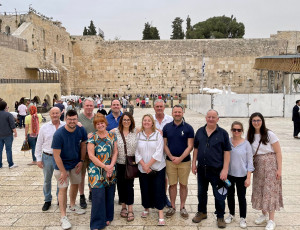 Fay Jones MP has reflected in the Jewish News on her "unforgettable" recent visit to Israel and the Palestinian Authority (PA) with CFI, calling the country "misrepresented" by those who had "never experienced it first-hand".
The trip was CFI's first parliamentary delegation to Israel since February 2020, with nine MPs taking part in an itinerary which included high-level meetings with Israeli politicians, journalists, entrepreneurs and academics, as well as the PA Prime Minister.
Recalling the dramatic political backdrop to the visit after Israel's governing coalition was hit by a major defection, the MP for Brecon and Radnorshire stated that she was fascinated by the complexity of Israeli politics and celebrated the "thriving and boisterous democracy".
Fay recalled a "fascinating" meeting with PA Prime Minister Mohammed Shtayyeh during the trip in Ramallah, who "shocking[ly]" spoke of his support for 'martyrs' (Palestinian terrorists who had injured or murdered Israelis)".
Reflecting on the tragic Tel Aviv terror attack which occurred on the last evening of the visit, Fay said she had been struck by the "determination to get on with life and celebrate the many freedoms Israelis enjoy". She observed that there were similarities between Brits and Israelis in how they respond to "such difficult circumstances".
Fay finished with optimism for the future of the UK-Israel relationship, believing that the praise she heard for the UK from Israelis and the new free trade deal, shows there is a bright future ahead for the two countries.
CFI Executive Director James Gurd wrote in ConservativeHome about the group's experience of being in Israel during a terror attack and providing context on the latest violence.