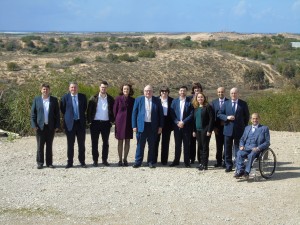 CFI coordinated a high-profile delegation to Israel last week with four senior Conservative Members of Parliament and two Conservative Lords, where CFI Parliamentary Chairman, Rt. Hon. Sir Eric Pickles MP, planted a tree at Yad Kennedy Memorial in the Aminadav Forest in Jerusalem to mark his knighthood. The trip was CFI's 14th delegation since the General Election in May 2015.
The delegates included former Secretary for Education, Rt. Hon. Nicky Morgan MP, former Secretary of State for Work and Pensions, Rt. Hon. Stephen Crabb MP, and former Secretary of State for Northern Ireland, Rt. Hon. Theresa Villiers MP. The delegation was led by CFI Parliamentary Chairman and former Secretary of State for Communities and Local Government, Rt. Hon. Sir Eric Pickles MP. Also in attendance were Lord Gadhia and CFI Honorary President Lord Polak CBE.
The visit comes at an important moment for UK-Israel relations, with both countries marking the centenary of the Balfour Declaration this year, and working together to lay the groundwork for a post-Brexit trade agreement. This month, British Prime Minister Theresa May and Israeli Prime Minister Benjamin Netanyahu met for the first time at 10 Downing Street, and agreed to establish a new UK-Israel Trade Working Group to strengthen the bilateral trade and investment relationship.
The CFI delegation featured a full itinerary of political and security briefings, giving the group a first-hand look at the latest situation in Israel, as well as cultural and historical visits.
During the visit, CFI Parliamentary Chairman, Rt. Hon. Sir Eric Pickles planted a tree at Yad Kennedy Memorial in the Aminadav Forest in Jerusalem, in honour of his knighthood. CFI presented Sir Eric with the gift following his knighthood in February 2016, stating that in his honour, a garden of trees will be planted by the Jewish National Fund (JNF) in Jerusalem.
Sir Eric described the dedication of trees as "a particular honour for me", and expressed his joy at "putting down roots in this wonderful country; a bastion of democracy". The former Communities and Local Government Secretary said that he "first came to Israel in 1980 and fell in love with the place and its people". He said that "it has been a real pleasure playing a small part in bringing our two great countries together".
The visit began with a visit to Beit Issie Shapiro's (BIS) headquarters in the city of Ra'anana in central Israel, an Israeli NGO and global leader pioneering innovation to improve the quality of life and ensure rights for people with disabilities in Israel and internationally, across all cultural and religious divides. Delegates saw the organisation's sensory room and dentist surgery for disabled children, and were briefed on how the NGO provides cutting-edge services to improve the quality of life for people with disabilities.
The group then visited BIS's Sindian Center based in Kalansua, which was established in 2001 as the first early intervention centre in the Arab sector in Israel. The centre currently serves 42 children with severe disabilities, from the ages of six months to four years.
Commenting on the visit to BIS, Rt. Hon. Nicky Morgan MP said: "It was inspirational to visit Beit Issie Shapiro and hear about the work they are doing to support children with disabilities and their families, in particular to tackle any stigma they face. I was most struck by the comment that parents of children with disabilities aren't interested in politics. Beit Issie Shapiro demonstrates that perfectly".
Later that day, the delegation visited Rise Tel Aviv, a FinTech hub founded by Barclays, which provides the facilities and networks needed for FinTech businesses to develop, where they heard from the Israeli startups CurrencyTransfer and QED-it.
The group met with British Ambassador to Israel, H.E. David Quarrey, who gave an introduction to some of the most pressing issues in the region. The same day, MPs met with the leader of centrist party Yesh Atid, Yair Lapid, at the party's headquarter's in Tel Aviv. Yesh Atid, which has 11 seats in the Knesset, is currently riding high in the polls and could take more seats than Likud should an election take place now. The following day, the delegates met Minister of Public Security and Strategic Affairs Gilad Erdan MK, and Yesh Atid MK Mickey Levy.
This was followed by a visit to Israeli NGO Save a Child's Heart (SACH) in Holon where the delegates met children from Gaza receiving life-saving heart surgery. Parliamentarians spoke to a Palestinian trainee cardiologist, one of 120 physicians and nurses from developing countries trained by the organisation. Over 50% of around 4,000 children who have received the life-saving treatment are Palestinians from Gaza and the West Bank.
During their visit, the delegation also met with Middle East expert Jonathan Spyer, Professor at Tel Aviv University, Asher Susser, Editor of the Times of Israel, David Horovitz, and Daniel Taub, former Israeli Ambassador to the UK.
As part of the diverse itinerary, the MPs received security briefings in the Gaza border town of Sderot in southern Israel, where they saw the remains of Hamas rockets, in addition to the Netiv Ha'Asara moshav where MPs saw the entrance to a Hamas cross-border terror tunnel.
The delegation's visit to the West Bank began with a tour of the first Palestinian-planned city of Rawabi, which seeks to be a prosperous centre for business and culture in the region, expecting to house over 35,000 Palestinians. The delegates met with Rawabi's visionary, Palestinian-American businessman Bashar Masri, who informed them that more than 2,000 people had now moved into the city's apartments.
In Ramallah, delegates met Dr. Mohammad Shtayyeh, Minister at the Palestinian Economic Council and member of the Palestinian negotiations team. The parliamentarians also met businessman Samir Hulileh, the CEO of Padico, the largest Palestinian holding and investment company.
On the final day of the trip, the delegation paid a moving visit to Yad Vashem Holocaust Memorial in Jerusalem and laid a wreath in memory of the victims of the Holocaust.
Rt. Hon. Stephen Crabb MP: "It is fantastic to be back in Israel for my second visit with CFI. There is no other organisation apart from CFI that provides Members of Parliament with an opportunity, both to come to Israel and hear the different shades of opinion from within Israel itself, but also to meet Palestinians and hear their point of view too. As an educational opportunity, it is absolutely invaluable. What really made an impression on me on this visit was the visit down south to Sderot, the community which is right next to the Gaza Strip, talking to the community there about their security concerns, the barrage of rockets and missiles they have faced year after year, but also getting that sense from them, that huge desire and yearning for peace, to be able to raise their families in peace, to live side-by-side with Palestinians in peace, and their desire to really work to make that happen". Watch video on CFI's Youtube.
Rt. Hon. Nicky Morgan MP: "Let me say thank you to CFI for an amazing trip to Israel. I think somebody said that you arrive in Israel with lots of questions, and although you might not get lots of answers, you at least leave with perhaps better informed questions. Highlights include the visit to the West Bank, to Ramallah, but also to Rawabi, and to the meetings with people who aren't politicians, who frankly want to be able to live with peace, with stability, with economic prosperity, and as politicians it's something for us all to think about, how we deliver what people are looking for". Watch video on CFI's Youtube.
Delegation leader, Rt. Hon. Sir Eric Pickles MP: "We've met with Government ministers, we've met with various Jewish officials, but this trip we have concentrated on meeting with Palestinians. Palestinians working with Israelis. We've looked at people working in the medical field, we've looked at people working with handicapped children – with children who have special needs – we've met with entrepreneurs. We have been to Rawabi, the first new development, a wholly Palestinian development, within territories for a very, very long time. What we have met is people who have good faith, and who want peace, and if the Palestinian authorities could just start that process of negotiating with Israelis, then that long sought after peace is within our grasp". Watch video on CFI's Youtube.