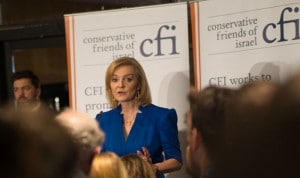 This week, as many as 500 Conservative activists attended CFI's packed Conservative Party Conference Reception to hear Foreign Secretary Rt. Hon. Liz Truss MP address the event, alongside 10 Cabinet members and Government Ministers, and dozens of MPs.
Foreign Secretary Truss asserted: "The United Kingdom wants to build with our friends and allies around the world, and there is no closer friend and ally than the State of Israel".
The Foreign Secretary hailed CFI's reception as "the best attended event in the whole Conservative Party Conference" and welcomed the "massive support in the Conservative Party for the nation of Israel".
"We are behind you, we are supporting you, and together we will become stronger and more successful", she affirmed.
Foreign Secretary Truss stated the UK's commitment to stopping Iran from becoming a nuclear power, working "night and day with our friends and allies across the world to stop that from happening".
In her speech, the Foreign Secretary described Israel as a "freedom-loving democracy which we completely want to work with and stand by and develop a deeper relationship". After visiting the country earlier this year as International Trade Secretary, Ms Truss said she was "looking forward to visiting Israel again soon".
The Foreign Secretary underlined three key areas in which the UK seeks to develop ties with Israel: trade, technology and security. She said that her successor at the Department for International Trade, Rt. Hon. Anne-Marie Trevelyan, is "determined to pursue" a wide-ranging free trade deal with Israel, revealing that this would be a "full fat deal".
Israel is a "huge technological innovator", Ms Truss added, emphasising that the UK seeks to "work with like-minded allies like Israel" to further deepen technological ties.
Health Secretary Rt. Hon. Sajid Javid MP, Transport Secretary Rt. Hon. Grant Shapps MP, Northern Ireland Secretary Rt. Hon. Brandon Lewis MP and Conservative Party Chairman Rt. Hon. Oliver Dowden MP also addressed guests, and Justice Minister Lord Wolfson of Tredegar QC and Paymaster General Rt. Hon. Michael Ellis QC MP made additional remarks.
Israeli Ambassador H.E. Tzipi Hotovely and Board of Deputies President Marie van der Zyl spoke at the event, addressing guests including dozens of parliamentarians and councillors. UAE Ambassador H.E. Mansoor Abulhoul and Fahad Al Binali from the Bahraini Ministry of Foreign Affairs were also in attendance.
Speakers at CFI's reception included former London Mayoral candidate Shaun Bailey AM and CFI Vice-Chairman Rt. Hon. Theresa Villiers MP.
The event was chaired by CFI's Parliamentary Chairman in the House of Lords, Rt. Hon. The Lord Pickles, who was presented with a cake in celebration of this year's Conference being the 50th he had attended.
CFI's Parliamentary Chairman in the House of Commons, Rt. Hon. Stephen Crabb MP, thanked attendees for supporting CFI's work "year in year out".
"You give us the confidence to be able to campaign in the House of Commons and the House of Lords on issues like BDS and antisemitism. It gives us the confidence to campaign on the proscription of Hezbollah, which we achieved under Sajid Javid… It gives us the confidence now to campaign for the full proscription of the evil Hamas organisation", he told the packed room.
Mr Crabb welcomed Foreign Secretary Liz Truss, stating that "when she talks about friendship between the UK and Israel, she absolutely means it, and when she's determined to take action to further that friendship and relationship, she absolutely does follow through".
In her remarks, the Israeli Ambassador to the United Kingdom, H.E. Tzipi Hotovely described the Foreign Secretary and Health Secretary as "great friends" of Israel.
She thanked CFI and said that together, "we are going hopefully to write a whole new chapter in the bilateral relations of Israel and the UK".
Attending Conservative Party Conference for the first time, the Ambassador said she was "delighted" to meet Cabinet Ministers and hailed the "deep friendship" between the two countries.
Health Secretary Sajid Javid underlined his staunch support for Israel in his comments, telling those gathered that he was "already planning his first trip as Health Secretary to Israel". "When it comes to this pandemic, two countries had the most outstanding response when it came to vaccines, the United Kingdom and the State of Israel", he said.
The UK-Israel relationship is a "pact of steel, it's an unbreakable bond, it will never break", the Health Secretary added.
The Chairman of the Conservative Party, Rt. Hon. Oliver Dowden MP, said in his remarks: "There is no deeper bond for me than the Conservative Friends of Israel, and I say that with great pride".
"We are your friends in good times, and we're your friends in bad times", the Conservative MP for Hertsmere underlined.
The event comes at the end of another successful Conservative Party Conference for CFI, as we have signed up as many as 150 new members at our exhibition stand. The CFI exhibition stand has been extremely busy with many MPs and hundreds of Conservative delegates from across the Party visiting to sample Israeli wine, speak to the CFI Team and read CFI literature – including the new edition of Informed Magazine, which features a letter from Prime Minister Boris Johnson.