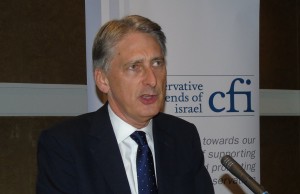 As many as 500 Conservative parliamentarians, activists and supporters packed into CFI's ever-popular annual Reception at Conservative Party Conference on Tuesday 6th October to hear a keynote address from Foreign Secretary Philip Hammond.
A series of Secretaries of State and Government Ministers, as well as dozens of MPs attended the event, which has become one of the main events on the Conference calendar. Attendees included, Business Secretary Sajid Javid, Wales Secretary Stephen Crabb, Northern Ireland Secretary Theresa Villiers, and Conservative Party Chairman, Rt. Hon. Lord Andrew Feldman. The event was also attended by the Chairman of the Foreign Affairs Select Committee, Crispin Blunt MP, Deputy Chairman of the Conservative Party, Rt. Hon. Robert Halfon MP, and Government Chief Whip, Rt. Hon. Mark Harper MP. Zac Goldsmith MP, the newly elected Conservative candidate for Mayor of London, received a particularly warm welcome from the assembled crowd.
The Foreign Secretary used his speech to reassert the Government's "unshakeable commitment" to both Israel's right to exist and right to self-defence. Mr Hammond stated: "I want to reassure you of Britain's unshakeable commitment under this Conservative Government to Israel's security; Israel's right to defend itself; Israel's right to exist".
The Foreign Secretary made light of Labour Party leader Jeremy Corbyn and his controversial recent failure to say the word 'Israel' at an event at Labour Party Conference. To rapturous applause, Mr Hammond observed: "I've read the reports of Mr Corbyn's attendance at the Labour Friends of Israel meeting at Labour Conference and I just want to say one word to you: Israel. I'll say it again: Israel!"
On Jeremy Corbyn and Hezbollah/Hamas: "I can make you a couple of promises and Mr Corbyn can't. I can promise you that I will never share a platform with Hezbollah. I can promise you that I will never describe anybody who launches indiscriminate rocket attacks against civilian populations as my friends".
On Israel's right to self-defence: "During the Gaza conflict last summer, the Prime Minister, I, and the Chancellor made a clear decision that we would stand behind Israel and defend what Israel was doing. We took a bit of flack for it and we are proud of that, and we will stand behind Israel again when it is defending its right to exist and its right to defend itself against attacks".
On boycotts: "Under a Conservative Government, Britain rejects the concept of boycotts. The new changes will stop politically motivated disinvestment campaigns; stop local authority boycotts of goods. Under a Conservative Government, our foreign policy will be made in the Foreign Office and not in hundreds of Labour controlled town halls".
On the peace process: "We are clear about what we want. We want Israel and its neighbours to live in peace. We want Israel to have security. And there's an urgent need to make progress on the Middle East Peace Process… We need to preserve the possibility of a two-state solution in the future".
The event also included contributions from Wales Secretary Stephen Crabb, Conservative Party Chairman, Rt. Hon. Lord Andrew Feldman, CFI's Parliamentary Chairman, Rt. Hon. Sir Eric Pickles MP, and Eitan Na'eh, Israel's chargé d'Affaires.
Secretary of State for Wales, Rt. Hon. Stephen Crabb MP, opened the event, proclaiming: "I stand here this evening very proud to say that I am a Conservative friend of Israel. I have been to Israel with one of the CFI trips in 2007… That visit really opened my eyes to the challenges Israel faces on a day-to-day basis in terms of security but also in terms of the enormous economic opportunities that exist for the relationship between Israel and the UK".
CFI's Parliamentary Chairman, Rt. Hon. Sir Eric Pickles MP, welcomed the news that the Government is taking steps to prevent Labour-run councils boycotting Israel: "Thank you very much indeed for banning, for outlawing municipal boycotts of Israel. And thank you for ensuring that councils now have to invest – not on a basis of politics – but on the basis of what's a good investment for their pensioners".
Thanking the Foreign Secretary for his "solid support for Israel", Sir Eric observed: "This week has been a sad week for Israel… Where we've seen parents mown down in the streets of Jerusalem in front of their children. It's a shocking thing to do. Where we've heard Mr Abbas refer to Jews in Jerusalem as being sacrilege and having their dirty feet on the ground – this is an outrage".
The event brought an end to another successful Conservative Party Conference for CFI, as we signed up as many as 150 new members at our exhibition stand. The CFI exhibition stand was a hive of activity all week with hundreds of Conservative delegates from across the Party visiting to sample Israeli wine, read CFI literature – including the new edition of Informed magazine.