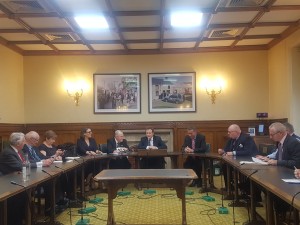 On Tuesday, Justice Elkayim Rubinstein, former Vice President of the Israeli Supreme Court spoke to cross-party parliamentarians, at an event chaired by Chair of the Foreign Affairs Select Committee Tom Tugendhat MBE MP.
Justice Rubinstein addressed parliamentarians and answered questions on a range of issues including the upcoming Israeli election, the prospects of peace, minorities in Israel, as well as the inner workings of Israel's legal system.
He spoke about his time as a member of Israel's negotiation teams that secured peace deals with Egypt and Jordan, emphasising that "one shouldn't lose hope for peace". He said that there is currently a good security rapport between the Jewish State, Jordan and Egypt, but that this still needs to transgress to the populations of the countries.
Conservatives in attendance included Rt. Hon. Lord Pickles, Lord Polak CBE, Lord Shinkwin, John Howell OBE MP, Mary Robinson MP, and Mark Pawsey MP.
Israeli Ambassador H.E. Mark Regev and Deputy Ambassador Sharon Bar-Li also attended the event.