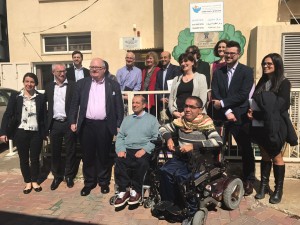 CFI is coordinating a high-profile delegation to Israel this week for four senior Conservative Members of Parliament and two Conservative Peers. The trip is CFI's 14th delegation since the General Election in May 2015.
Delegates include former Secretary of State for Education, Rt. Hon. Nicky Morgan MP, former Secretary of State for Work and Pensions, Rt. Hon. Stephen Crabb MP, and former Secretary of State for Northern Ireland, Rt. Hon. Theresa Villiers MP. The delegation is being led by CFI Parliamentary Chairman and former Secretary of State for Communities and Local Government, Rt. Hon. Sir Eric Pickles MP.
During the visit, Sir Eric will plant a tree in the Lord Sacks Forest in Jerusalem, in honour of his knighthood. CFI presented Sir Eric with the gift following his investiture in February 2016, stating that in his honour, a garden of trees will be planted by the Jewish National Fund (JNF) in Jerusalem.
CFI Executive Director James Gurd said: "Sir Eric's commitment to fighting anti-Semitism and promoting the strong relationship between Israel and the UK has been a constant throughout his political life. The tree planting ceremony in Jerusalem to honour Sir Eric's much deserved knighthood will be a fitting way to celebrate such a steadfast friend of Israel and the Jewish community".
The itinerary also features a series of high-level meetings with Israeli government representatives, politicians, journalists and academics, as well as strategic briefings with the Israel Defense Forces (IDF).
The group will visit Save a Child's Heart in Holon, an Israeli NGO that provides life-saving heart surgery for children from the Palestinian Territories and developing countries across the world. The parliamentarians will also meet with British Ambassador H.E. David Quarrey and Israeli high-tech innovators.
Delegates will meet with senior Palestinian Authority representatives and businesspeople in the West Bank, and visit Israel's southern communities on the Gaza border.
The visit comes at an important moment for UK-Israel relations, with both countries marking the centenary of the Balfour Declaration this year, and working together to lay the groundwork for a post-Brexit trade agreement. This week, British Prime Minister Theresa May and Israeli Prime Minister Benjamin Netanyahu met for the first time at 10 Downing Street, and agreed to establish a new UK-Israel Trade Working Group to strengthen the bilateral trade and investment relationship.
The trip will be one of several coordinated by CFI in the coming months to promote closer UK-Israel ties and deepen existing cooperation between the two countries.