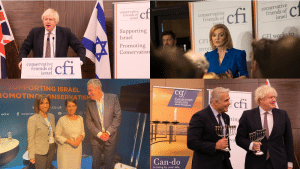 After a second year of unprecedented global uncertainty, we are pleased to look back at what has been a successful time for UK-Israel relations and CFI's work.
Despite for much of the year CFI's activities being far from normal due to Covid-19, Conservative parliamentarians have remained committed to keeping Israel on the agenda and ensuring that the UK-Israel relationship goes from strength to strength.
Throughout 2021, CFI and Conservative parliamentarians in both houses have continued to lead on important issues, including standing up for Israel's right to self-defence, condemning Iran's nuclear programme and incitement in Palestinian Authority textbooks, calling for funding peaceful coexistence, and deepening UK-Israel trade. 103 Conservative MPs and Lords made contributions in Parliament in support of CFI's campaign issues, including 45 from the 2019 intake.
One year on from the signing of the Abraham Accords, we have also seen ties between Israel and its Arab neighbours continue to flourish, marking a new era for the Middle East; one of peace and prosperity.
Ending 2021 on a high, we were delighted to welcome the launch of a new 10-year UK-Israel strategic partnership, and to hold our Annual Business Lunch with keynote speakers Prime Minister Boris Johnson and Israel's Minister of Foreign Affairs Yair Lapid, for the first time since 2018. CFI hosted over 194 Conservative parliamentarians in events this year – both online and in person.
We'd like to reiterate how deeply grateful we are to all of our supporters for your continued backing, which is so invaluable to our work.
January-March
The year started with Conservative MPs and Lords have hailing UK-Israel cooperation in fighting Covid-19 and praising Israel's vaccination programme in a series of oral contributions and Written Questions. Then-Vaccination Deployment Minister Nadhim Zahawi MP commended Israel's "stellar job". In an op-ed for the Jewish Weekly newspaper, CFI Vice-Chairman Rt. Hon. Theresa Villiers MP said it is a "source of pride" that the UK and Israel "are working closely in the fight against coronavirus".
CFI Parliamentary Chairman (Commons) Rt. Hon. Stephen Crabb MP in January called on the BBC to "urgently review its coverage of Israel" after polling showed that two-thirds of British Jews believe the BBC's coverage on matters of Jewish concern is "unfavourable".
At the end of the month, Rt. Hon. Stephen Crabb MP led this year's Holocaust Memorial Day debate, which featured contributions from as many as 40 Conservative MPs.
CFI and Conservative parliamentarians continued to be vocal against anti-Israel bias at the UN. In March, more than 20 MPs raised the importance of UK voting against anti-Israel motions at the United Nations Human Rights Council (UNHRC), including in a Westminster Hall debate secured by Scott Benton MP. In the same month, the UK voted against the Israel-specific Agenda Item 7 at the 46th session of the UNHRC – the UK voted against all three resolutions and forced a division on two of these.
A number of Conservative parliamentarians wrote letters in March to Bristol University Vice-Chancellor Professor Hugh Brady expressing concerns over Professor David Miller, including CFI Parliamentary Chairman (Commons) and Bristol Uni alumnus, Rt. Hon. Stephen Crabb MP and Education Select Committee Chairman, Rt. Hon. Robert Halfon MP. Miller sparked condemnation across the Jewish community after calling for an end to Zionism, and accusing the university's J-Soc (Jewish Society) of being "pawns of Israel".
CFI hosted a webinar for CFI Supporters with Chancellor of the Exchequer, Rt. Hon. Rishi Sunak MP in January, then-Health Secretary Rt. Hon. Matt Hancock MP in March, and a Q&A event for Conservative parliamentarians with the UK Ambassador to Israel, H.E. Neil Wigan. Webinars with experts and senior political figures were also hosted during this period, including Israel's Deputy Health Minister Yoav Kisch MK, Jerusalem Post journalist Seth Frantzman, Israeli political scientist Professor Reuven Hazan ahead of Israel's General Election, and IDF Spokesperson Lt. Col. Jonathan Conricus.
April-June
In April, Prime Minister Boris Johnson confirmed UK opposition to an ICC investigation into Israel in a letter to CFI. CFI had raised concerns about the ICC's investigation in two letters to Prime Minister Boris Johnson (February and March) and in a meeting with Foreign Secretary Dominic Raab, urging the UK to issue a public condemnation of the probe. 33 Conservative Parliamentarians raised concerns over the ICC, and 15 MPs sent private letters to the Prime Minister and Foreign Secretary.
During May's conflict between Israel and terror groups in Gaza, Conservative MPs and peers stood up in Parliament and in the media to counter misinformation about the conflict, voice support for Israel's right to self defence, and condemn a rise in Antisemitic incidents as a result of the conflict.
In the same month, CFI's Parliamentary Chairmen Rt. Hon. Stephen Crabb MP and Rt. Hon. The Lord Pickles, and Honorary President Lord Polak CBE wrote to Prime Minister Boris Johnson, calling on the UK to announce its withdrawal from the Durban IV Conference, and "to take a stand against antisemitism on the international stage". In June, the UK Government announced that it will not be attending the United Nations conference over "historic concerns regarding antisemitism", which CFI welcomed.
The chairs of CFI and LFl in June urged G7 leaders to support the International Fund for Israeli-Palestinian Peace. MPs have supported the fund and the UK Government has said it will "consider options for collaboration" once more information is available.
The UK Government accepted that a much-anticipated European Union report into the Palestinian school curriculum confirmed that it features "anti-Israel, antisemitic content" and pledged a "zero tolerance" approach, after Conservative MPs raised concerns during a Westminster Hall debate on the EU review into Palestinian textbooks. Writing in the Jewish News after the debate, Rt. Hon. Stephen Crabb MP underlined that the UK's ongoing support for Palestinian teachers who draft and teach antisemitic content "undermines our commitment to combating anti-Jewish racism".
During this time, CFI hosted virtual briefings for Conservative parliamentarians with prominent Palestinian pollster Dr Khalil Shikaki, and Israeli Government Spokesperson Col. (Ret.) Miri Eisin, as well as a Q&A with Times of Israel founding editor David Horovitz. Webinars for CFI Supporters were hosted with Transport Secretary Rt. Hon. Grant Shapps MP, then-Digital, Culture, Media and Sport Secretary Rt. Hon. Oliver Dowden CBE MP.
July-September
CFI welcomed the news in July that planning permission had been granted for a Holocaust Memorial and Learning Centre to be built next to Parliament. The cause was championed by CFI Parliamentary Chairman (Lords) Rt. Hon. The Lord Pickles, and more than 170 cross-party MPs and peers voiced support for the memorial.
In the same month, we sadly said farewell to Deputy Ambassador of Israel, Sharon Bar-Li, but it was fantastic to finally meet parliamentarians and friends in person again for this occasion. In August, CFI met Israel's new Minister of Diaspora Affairs Dr Nachman Shai to discuss strengthening the UK-Israel partnership.
Speaking to the Jewish News, CFI Parliamentary Chair Rt. Hon. Stephen Crabb MP in August called on the UK Government to "look more critically now at how aid money has been used in the Palestinian Territories", as the Palestinian Authority (PA) curriculum continues to feature Antisemitic and violent material.
In September, over 30 Conservative MPs and Lords attended a CFI lunch in Parliament to welcome the new Deputy Ambassador of Israel to the UK, Oren Marmorstein, and meet Israeli Ambassador H.E. Tzipi Hotovely. In the same month, CFI Honorary President Lord Polak CBE joined Middle East Minister Rt. Hon. James Cleverly MP and diplomats from Israel, the UAE and Bahrain and cross-party parliamentarians in celebrating the first anniversary of the signing of the Abraham Accords and the launch of the UK Abraham Accords Group, Chaired by Rt. Hon. Dr Liam Fox MP.
At the end of the summer, CFI published its latest edition of Informed Magazine. In his letter to Informed readers, Prime Minister Boris Johnson celebrated the UK-Israel relationship and underlined that "under this Government, the UK's support for Israel's security will be unflinching". The magazine feature articles by a number of Conservatives, including CFI's Parliamentary Chairmen Rt. Hon. Stephen Crabb MP and Rt. Hon. The Lord Pickles, Chair of the UK Abraham Accords Group Rt. Hon. Dr Liam Fox MP, CFI Vice-Chair Rt. Hon. Theresa Villiers MP, Chair of the Education Select Committee, Rt. Hon. Robert Halfon MP, Saqib Bhatti MBE MP, Miriam Cates MP, and an interview with Israel's Ambassador to the UK, H.E. Tzipi Hotovely.
October-December
In October, CFI was very happy to make a return to Conservative Party Conference in Manchester. As many as 500 Conservative activists attended CFI's packed Conservative Party Conference Reception to hear Foreign Secretary Rt. Hon. Liz Truss MP address the event, alongside 10 Cabinet members and Government Ministers, and dozens of MPs. Foreign Secretary Truss asserted: "The United Kingdom wants to build with our friends and allies around the world, and there is no closer friend and ally than the State of Israel".
The Foreign Secretary hailed CFI's reception as "the best attended event in the whole Conservative Party Conference" and welcomed the "massive support in the Conservative Party for the nation of Israel". The event was chaired by CFI's Parliamentary Chairman in the House of Lords, Rt. Hon. The Lord Pickles, who was presented with a cake in celebration of this year's Conference being the 50th he had attended.
Foreign Secretary Truss stated the UK's commitment to stopping Iran from becoming a nuclear power, working "night and day with our friends and allies across the world to stop that from happening". Parliamentary Chairman (Commons), Rt. Hon. Stephen Crabb MP called on Britain to step up efforts to curb Iran's nuclear ambitions, in an article in ConservativeHome.
The event came at the end of another successful Conservative Party Conference for CFI, as we signed up as many as 150 new members at our exhibition stand and saw many activists face-to-face for the first time since the pandemic.
CFI mourned the deaths of two great Conservatives and friends of Israel Sir David Amess MP and James Brokenshire MP.
The UK voted against a resolution welcoming the Durban Declaration presented at the United Nations Human Rights Council (UNHRC), underlining that "regrettably, for far too long, the UN has downplayed the scourge of Antisemitism". CFI welcomed Foreign Secretary Truss's leadership on the issue, stating that the UK "sent an unmistakable message that it will tackle Antisemitism wherever it occurs.
In November, CFI hosted a special screening of the new film Upheaval: The Journey of Menachem Begin, with speeches from CFI Honorary President Lord Polak CBE and Ambassador of Israel Tzipi Hotovely, and an insightful Q&A with author and academic Ed Husain and Producer Rachel Greenberg.
Following the abusive treatment of treatment of Ambassador of Israel H.E. Tzipi Hotovely outside the London School of Economics (LSE), CFI thanked the Government for "its swift condemnation" of the incident, but added that "this is a reminder of the depth of the problem on university campuses".
CFI strongly welcomed Home Secretary Priti Patel's "hugely important" decision to proscribe Hamas as a terrorist organisation in full. The Home Secretary confirmed that the UK "can no longer disaggregate" the group's so-called military and political wings. The UK proscribed Hamas's military wing, the Izz al-Din al-Qassem Brigades, in 2001, but the designation did not extend to the terror group's political arm. The Home Secretary said that the current listing of Hamas "creates an artificial distinction between various parts of the organisation".
At the end of November, CFI hailed the new 10-year agreement signed by Foreign Secretary Liz Truss and Israel's Foreign Minister Yair Lapid, elevating the UK-Israel relationship to a Strategic Partnership.
Our year ended on a high, as Prime Minister Boris Johnson celebrated the UK-Israel partnership at CFI's first Annual Business Lunch since 2018 – attended by 650 guests, including 200 Conservative Parliamentarians and 12 Cabinet members. Prime Minister Johnson underlined: "All my life I have been a defender and a supporter of Israel". CFI was delighted to welcome Israel's Minister of Foreign Affairs Yair Lapid MK as a surprise guest speaker at the lunch. The two friends, who had first met in Israel on a CFI delegation 17 years ago, were presented with chanukiot by CFI Honorary President Lord Polak CBE to mark the festival of Chanukah. Watch the Prime Minister's full speech here.