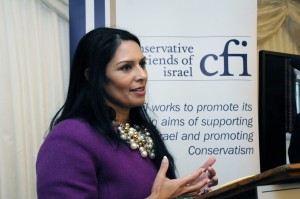 Speaking at CFI's Parliamentary Reception on Tuesday, Secretary of State for International Development Rt. Hon. Priti Patel MP, hailed the strength of the UK-Israel relationship, and vowed to "root out" abuse in international aid.
Addressing an audience of over 250 CFI supporters, including 50 parliamentarians, the DfID Secretary praised Israel's democracy as a "beacon to other countries" in her speech.
CFI were delighted to welcome Ambassador of Israel, H.E. Mark Regev, CFI Parliamentary Chairman Rt. Hon. Sir Eric Pickles MP, and CFI Chairman Andrew Heller who also spoke at the event.
Among Parliamentarians to attend the reception were Middle East Minister Tobias Ellwood MP, Minister for the Northern Powerhouse Andrew Percy MP,  Work and Pensions Minister Penny Mordaunt MP, former Northern Ireland Secretary Rt. Hon. Theresa Villiers MP, and former Work and Pensions Secretary Rt. Hon. Stephen Crabb MP.
Pledging to confront the misuse of UK aid in the Palestinian Territories, Ms Patel underlined: "I'm rooting out abuse in the system to ensure that that money is spent in the right way, and I have no hesitation whatsoever in ensuring that projects that are not doing what they should be doing in making sure that resources go to the right people, are absolutely dealt with".
She asserted: "I have no hesitation in removing funds from those projects. I will be assiduous in making sure that we will follow the money, drive transparency, follow the people, and follow the outcomes as well, because that is exactly the right thing we should be doing with taxpayers money".
In her speech, the International Development Secretary said that her department has a "very important role it plays when it comes to Israel", and that it will "play its part by investing in the right things for the right people", and also supporting "initiatives that bring people together".
She said that among the initiatives that DfID would support under her watch will "include coexistence programmes that are of great interest to many colleagues in the room this evening, who have spoken to me with great enthusiasm and great conviction of some of the amazing programmes that they themselves have seen and experienced through many of the visits and trips in Israel".
Ms Patel thanked CFI for its "tremendous" work in putting a "balanced case forward" and in "engaging parliamentarians through the visits and helping to educate and inform".
The International Development Secretary said that as Britain embarks on a new chapter in leaving the European Union, "having allies like Israel is absolutely fundamental when it comes to great friendships".
Celebrating the flourishing ties between the two countries, the Ms Patel said: "bilateral trade between our two countries is worth over 5 billion and has doubled over the last decade", and underlined that "there is a lot more to do". She asserted that the UK-Israel trading relationship "can only go from strength to strength".
Highlighting the shared values and history between the UK and Israel, the International Development Secretary said: "At the heart of our relationship is the fact that Britain recognises Israel's status as a modern liberal democracy, and actually it acts as a beacon to other countries as well. As we've heard already in terms of the Balfour Declaration, the last 70 years has established so much in terms of the bonds of our relationship, and we should never forget the circumstances surrounding Israel's birth, the hope and sanctuary that Israel provides to Jewish people around the world".
Condemning anti-Semitism, the International Development Secretary said that especially in the political arena "we have had sadly too many incidents of intolerance and anti-Semitism towards Jewish people". She emphasised that it is "absolutely outrageous" that the Labour Party and its leadership were failing to get a grip on the issue.
Ambassador of Israel, H.E. Mark Regev thanked Minister for the Middle East Tobias Ellwood MP for his role in increasing cooperation between the UK and Israel, and said that "the relationship between our two democracies makes both our people more prosperous and safer".
He underlined in his speech that "by supporting the Balfour Declaration, Britain was acting to correct a historic injustice. Britain did the right thing and that is something you should be proud of".
Ambassador Regev said: "We have, this year, 100 years till the Balfour Declaration. There were some who called upon Britain to apologise for Balfour; as if this is something that Britain should be ashamed of. As we heard from the Prime Minister at the CFI lunch, her Majesty's Government has robustly rejected those calls and rightly so. The Prime Minister said that Britain is proud of its role in helping to establish the Jewish state. And she is right".
Ambassador Regev ended his speech by stating that across the greater Middle East region, there is "only one country that reflects British values – one country with a free press, one country with free academic institutions, one country with a free trade union movement, one country where you can stand up and you can say that the Prime Minister is an idiot and not get thrown into jail. And that's my country, Israel".
CFI Parliamentary Chairman Rt. Hon. Sir Eric Pickles introduced the speakers and said in his speech that there are many interesting things occurring in the Middle East are not making the news, including "trade deals between the Palestinian Authority, Israel, and Jordan", and the resolution of water, electricity and 3G issues in the Palestinian Territories.
Sir Eric said that "there is a realisation that it is not possible to get a lasting peace until the two sides sit down face to face and talk things through".
He emphasised: "We in Britain are determined to stand firmly by our Israeli friends and to do our best to help you get a safe, secure Israel, and one that can contribute and does contribute to the world economy".
Praising International Development Secretary Priti Patel, Sir Eric said: "I think we are in an era where Priti is going to deliver international aid across the world to people in need that we are going to be proud of".
CFI would like to thank every guest that came to yesterday's reception – we hope to see you at another CFI event soon!