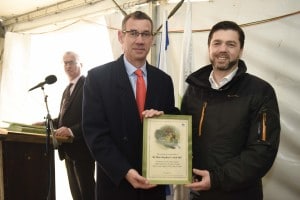 CFI's new Parliamentary Chairman in the House of Commons, Rt. Hon. Stephen Crabb MP, is a staunch advocate of Israel who has demonstrated his support for the Jewish State since becoming a Member of Parliament in 2005.
The Conservative MP for Preseli Pembrokeshire, who served as the Secretary of State for Wales between 2014 and 2016 and Work and Pensions Secretary in 2016, now sits on the House of Commons Select Committee on Exiting the European Union.
In May 2016, he hailed UK-Israel ties and expressed his personal affinity to the Holy Land in an address at Finchley Synagogue as Israel's Remembrance Day (Yom Hazikaron) led into Israeli Independence Day (Yom Ha'atzmaut). Stephen described the "remarkable sense of fellowship and unity felt in Israel, and in Jewish communities all around the world, as we remember those who have given their lives in the defence of Israel, is something truly beautiful and inspirational".
Stephen first visited Israel with CFI in 2006, returning in February this year as part of a high-profile CFI delegation including four former Cabinet ministers.
In July 2008, Stephen dissented from a report by the House of Commons International Development Select Committee which called for direct talks with Hamas.
Explaining his decision to dissent in an article for ConservativeHome, Stephen described the report's recommendations as "wrong-headed and dangerous", underlining that Hamas "attacks border crossings to disrupt the very humanitarian aid so badly needed by Palestinians", pursues "a systematic programme of indoctrination of children in martyrdom theology" and "launches near-daily rocket attacks on Israeli citizens".
Earlier this year, Stephen raised his concerns about the activities of Hamas and Islamic State in the Sinai, in a question during Foreign Office questions in the House of Commons. He asked the Foreign Secretary: "Alongside concerns about the rearmament of Hamas and the rebuilding of its network of cross-border terror tunnels, does my right hon. Friend share the growing alarm at ​the new activities of Daesh in the Sinai desert, which, together with the activities of Hamas, point to the prospect of further violence in the region and a new wave of terror attacks on innocent Israeli citizens?"
As Secretary of State for Wales in 2015, Stephen oversaw £3 million investment by Israeli companies in South Wales which led to up to 100 jobs being created and as much as £13 million being spent with local Welsh suppliers. Stephen welcomed the news, emphasising that "Israel is a close friend of the UK and we enjoy an excellent trade relationship, built on decades of cooperation".