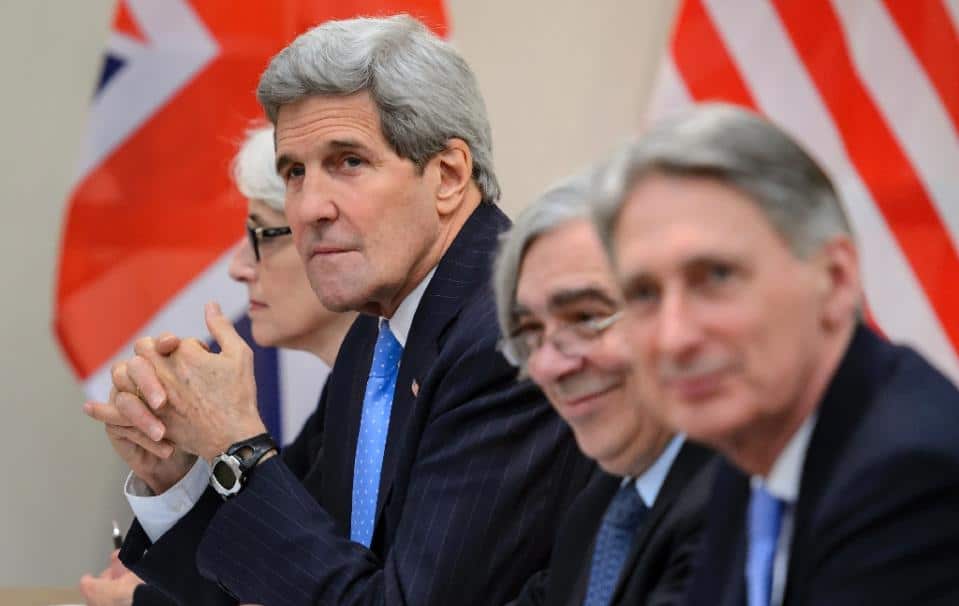 Talks between Iran and the P5+1 have resumed in Switzerland today, as the deadline to reach a preliminary nuclear deal approaches.
Foreign ministers of the six P5+1 nations, led by US Secretary of State John Kerry, have met with Iranian Foreign Secretary Mohammad Javad Zarif, with the aim of reaching a framework deal by Tuesday (31st March), following 18 months of talks. The deadline for a final nuclear agreement is due to expire on 30th June.
Foreign Secretary Philip Hammond told reporters yesterday: "We are here because we believe a deal can be done…But it has to be a deal which puts the bomb beyond Iran's reach. There can't be any compromise about that".
Last week, the Foreign Secretary had called on Iran to "show flexibility and take tough decisions", emphasising that "Iran must commit to a comprehensive, durable and verifiable deal – a deal that ensures Iran's nuclear programme remains exclusively peaceful".
On Sunday, it emerged that Tehran has backed away from a key detail in a nuclear deal, with Iranian officials stating that they are no longer willing to ship a large portion of their atomic fuel abroad under a deal. Iran's deputy Foreign Minister, Abbas Araqchi stated at the weekend: "There is no question of sending the stock abroad". For months, Iran had tentatively agreed that it would send a large portion of its uranium stockpile to Russia, where it would not be accessible for use in any future weapons programme.
According to diplomatic sources, Iran has "more or less" agreed to reduce the number of its centrifuges from 20,000 to 6,000, although nuclear experts have warned that Iran should not be allowed to retain more than 2,500 – 5,000 of their centrifuges as part of any nuclear agreement.
Israel's Prime Minister Benjamin Netanyahu yesterday warned that a deal with Iran at this time would be seen as rewarding the regime for its "aggressive" backing of the Houthi rebels in Yemen: "The agreement being formulated… sends a message that there is no price for aggression and, on the contrary, that Iran's aggression is to be rewarded".
He further added:  "Even as meetings proceed on this dangerous agreement, Iran's proxies in Yemen are overrunning large sections of that country and are attempting to seize control of the strategic Bab-el-Mandeb straits which would affect the naval balance and the global oil supply".
The Arab League has also reiterated its concerns with the emerging nuclear deal.  Nabil El-Araby, Secretary-General of the Arab League, expressed that "Iran's nuclear programme must be subject to monitoring by the International Atomic Energy Agency" and criticised Iran for "interference in several countries". A coalition of Arab military forces is currently engaged in a conflict against Iranian-backed Shiite Houthi rebels in Yemen. The Arab League has begun to discuss plans for a joint Arab military force – a move widely seen as an attempt to create a counter to Iranian regional power.