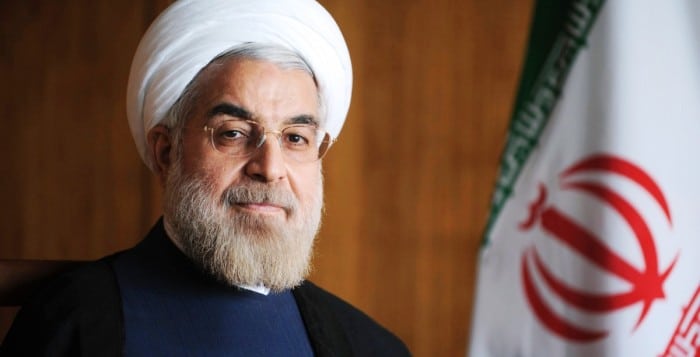 Iran's President Hassan Rouhani has said today that Tehran will not sign a final nuclear deal with the P5+1 unless all sanctions against the Islamic Republic were removed immediately.
Addressing a ceremony marking Iran's National Nuclear Technology Day, which celebrates the Islamic Republic's nuclear achievements, the President vowed: "We will not sign any agreements unless on the first day of the implementation of the deal all economic sanctions are totally lifted on the same day".
The pace at which the sanctions will be lifted is one of the major outstanding issues that still have to be agreed in the final accord scheduled for the end of June. There are currently major discrepancies about the process of lifting sanctions as featured in the parameters for a final nuclear deal announced by Iran and the P5+1 last week.
Western governments, which have imposed their own sanctions in addition to those adopted by the United Nations, have been pushing for it to happen only gradually as Iran lives up to its commitments. Iran has claimed that sanctions would be lifted immediately upon the signing of a deal.
U.S. Secretary of State John Kerry said last week: "In return for Iran's future cooperation, we and our international partners will provide relief in phases from the sanctions that have impacted Iran's economy".
U.S. President Barack Obama has said that the final deal will include provisions to "snap back" sanctions if the world finds out that Iran is not abiding by the terms of the agreement, but Israel has questioned whether such a mechanism is feasible.
Iran's supreme leader Ayatollah Ali Khamenei today accused the U.S. of "lying" about the terms of the framework nuclear deal announced last week and also stated that the parameters are no guarantee a full agreement will be secured by the end of June.
In his first public remarks since the announcement of the Lausanne parameters, the Supreme Leader said: "What has been done so far does not guarantee an agreement, nor its contents, nor even that the negotiations will continue to the end".
Khamenei has claimed that the understandings secured in Switzerland are not binding and said "the details" in the final deal will determine whether an agreement is signed.
Ayatollah Khamenei, who has the final word on all matters of state, made the remarks on his official website.
The Supreme Leader also addressed the discrepancies between the U.S. and Iranian accounts of the terms of the framework agreement, accusing the White House of lying. The Ayatollah asserted: "I trust our negotiators but I'm really worried as the other side is into lying and breaching promises; an example was White House fact sheet", he wrote on Twitter. "Hours after the talks, Americans offered a fact sheet that most of it was contrary to what was agreed. They always deceive and breach promises".