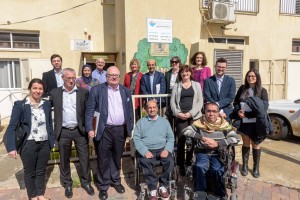 Conservative MPs and peers on a CFI parliamentary delegation to Israel this week visited Beit Issie Shapiro (BIS), an Israeli NGO and global leader pioneering innovation to improve the quality of life and ensure rights for people with disabilities in Israel and internationally, across all cultural and religious divides.
The organisation is leading research into assistive technology to improve the well-being and social inclusion of people with disabilities.
Delegates included Rt. Hon. Stephen Crabb MP, Rt. Hon. Nicky Morgan MP, Rt. Hon. Theresa Villiers MP, Lord Gadhia, CFI Honorary President Lord Polak CBE, and senior businessman Mustafa Mohammed.
The MPs learnt about BIS's innovative disabled care facilities at their headquarters in Ra'anana, central Israel, and visited the organisation's sensory room – the first in Israel – and dentist surgery for disabled children.
The CFI delegation later visited BIS's Sindian Center, which was established in 2001 as the first early intervention centre in the Arab sector in Israel.
The Sindian Center, based in Kalansua, a 22,000-population Arab city in the 'Triangle' district of central Israel, was founded on the instruction of the Israeli government. The centre currently serves 42 children with severe disabilities, from the ages of six months to four years.
Commenting on the visit, Rt. Hon. Nicky Morgan MP said: "It was inspirational to visit Beit Issie Shapiro and hear about the work they are doing to support children with disabilities and their families, in particular to tackle any stigma they face. I was most struck by the comment that parents of children with disabilities aren't interested in politics. Beit Issie Shapiro demonstrates that perfectly".
CFI Parliamentary Chairman, Rt. Hon. Sir Eric Pickles MP, said: "Beit Issie Shapiro is Israel at its best. I wish organisations like BIS were around decades ago to have affected change sooner. I salute what you're doing and want to wish the organisation well in its important work".
Lord Gadhia praised BIS for their work: "Beit Issie Shapiro's groundbreaking work isn't only improving the lives of disabled children in Israel, it is also bringing Arab and Jewish communities together. It's facility in the Arab Israeli town of Qalansawe is extraordinary, and is clearly having a transformative effect on how disability is viewed throughout the area".
Statistics suggest some 4,000 children in the southern district of central Israel, a concentration of Israeli Arab villages, have disabilities – some that aren't seen in typical Israeli communities because religious Muslims (as well as ultra-Orthodox Jews) generally avoid genetic testing.
In 2007, BIS opened the Family Advancement Center at Sindian to support and encourage hundreds of parents.
The centre also runs a hotline advising Arabic-speakers about the rights of the people with disabilities and how to access them; and a leadership program in the Kalansua high school to promote social-action projects.
During a visit from US Ambassador to Israel Dan Shapiro in October 2016, Kalansua Mayor Salameh Abed Albacete announced his intention to donate land for a permanent home for the Sindian Center, which now operates in a rented facility.
BIS is headquartered in Ra'anana in central Israel, and has pioneered variety of programmes onsite and offsite to ensure equal rights and integration for Israelis with disabilities.