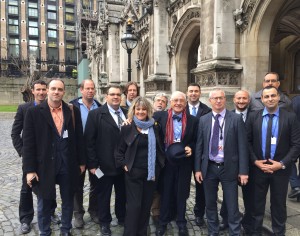 A group of ten young specialist surgeons from Israel are visiting the UK on a delegation this week.  The group consists of three Israeli Arab surgeons, three of Russian origin and two Jewish surgeons born in Israel.
The diverse group reflects the make-up of Israeli hospitals, where Jewish and Arab medical staff work alongside one another on a daily basis.
They have attended colorectal teaching units at London hospitals including St. Thomas's Hospital and King's College Hospital, and took part in a joint surgical conference with the Jewish Medical Society UK at University College London earlier this week in order to enhance their expertise and to foster relationships with British surgeons.
The delegation met with CFI's Honorary President, Lord Polak CBE, and CFI's Executive Director, James Gurd, for a visit to the Palace of Westminster.
They will go on to attend the Basingstoke M25 course in colorectal surgery.
The visit has been sponsored by the John Furman Fund of the Israel, Britain and Commonwealth Association, with the help of the David Yanir Foundation for the Advancement of Colorectal Surgery in Israel.
The delegates are led by Professor Alex Deutsch of the Beilinson Medical Centre and Dr. Reuben Weil, a senior colorectal surgeon from Hasharon Hospital Petach Tikva.