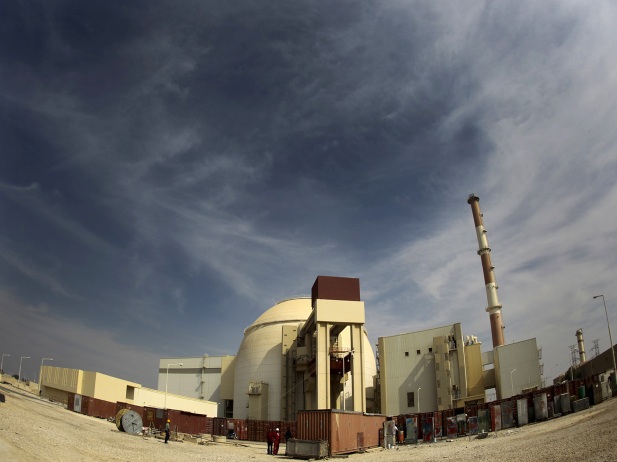 Israeli officials and nuclear experts have continued to express grave concern over the parameters of a deal for Iran's nuclear programme announced last week following marathon talks in Switzerland.
The P5+1 and Iran have laid out what amounts to goals for a deal by the end of June that would place constraints and controls on Iran's nuclear work for up to 25 years, with strict limits for the first decade.
Israel's Prime Minister Benjamin Netanyahu warned America's NBC TV news that the agreement could prove to be a "historically bad deal", observing: "it leaves the preeminent terrorist state of our time [Iran] with a vast nuclear infrastructure, not one centrifuge destroyed".
In a separate interview with CNN, the Prime Minister said that it was incorrect to characterise the choice facing the international community as "this bad deal or war", before suggesting that "there's a third alternative, and that is standing firm, ratcheting up the pressure until you get a better deal".
Israel's Defence Minister Moshe Ya'alon additionally warned: "As they speak about the number of centrifuges, Iran takes over Yemen…the Golan Heights, Hezbollah".
The criticism came as U.S. President Barack Obama, who is making concerted efforts to sell the parameters of a deal to a sceptical Capitol Hill, made a stark admission that the breakout time for Iran to get a nuclear bomb could "have shrunk almost down to zero" after 13 years of a nuclear agreement.
The President said Iran would be kept a year away from obtaining a nuclear weapon for more than a decade of any agreement, but conceded that the buffer period could shrink to almost nothing after 13 or more years.
President Obama: "What is a more relevant fear would be that in Year 13, 14, 15, they have advanced centrifuges that enrich uranium fairly rapidly, and at that point, the breakout times would have shrunk almost down to zero".
Breakout time refers to how long it would take to build a nuclear bomb if Iran decided to pursue one — in other words, how long the rest of the world would have to stop it. The framework deal, if honoured, seeks to expand Iran's breakout time — currently two to three months — to at least a year. But that constraint would stay in place only for 10 years, at which point some restrictions would start phasing out.
Nuclear experts have been expressing their own concerns about the nuclear parameters, including former IAEA deputy director Olli Heinonen.
Mr Heinonen has expressed a range of concerns about the deal taking shape, warning of Iran's history of deception, and also cautioning that the one-year framework for nuclear breakout pushed by the Obama administration might leave insufficient time for an international reaction to violations of the agreement.
The nuclear expert has said that the terms delineated in the framework agreement will leave Iran as "a threshold breakout nuclear state for the next 10 years", and after that the remaining safeguards against a breakout to the bomb will begin to fall away.
Mr Heinonen believes the current framework lacks an emphasis on Iranian transparency about its entire nuclear programme, including the actual number of centrifuges in operation. Such information, Heinonen says, is of central importance to IAEA monitors' ability to enforce and monitor the current nuclear programme.
The deal, he further suggested, will encourage other states in the region to strengthen their own nuclear programmes. "This will have an impact on the region. Saudi Arabia has indicated that whatever Iran will get, they will get too", Heinonen said. "It doesn't mean that neighboring states are going to dash for nuclear weapons, but that they are going to build their infrastructures in different way. I'm sure they will do it in accordance with the IAEA". Saudi Arabia alone has reportedly spent about $1 billion on its nuclear development thus far.
In addition, Heinonen is worried about the international dimensions of Iran's nuclear programme, including what he described as a past willingness to outsource aspects of it to other countries, such as North Korea. "You can outsource. We will be monitoring the uranium mines, but they can always get yellowcake from somewhere else".
The nuclear official also drew attention to the fact that differing accounts of the agreement reached last week have been published by some of the respective governments of the P5+1 member states and Iran, with key differences evident between Iran and Washington's description of the plans for sanctions relief, among other areas of discrepancy.
The U.S. has written that it foresaw a graduated process of sanctions relief, while Iranian Foreign Minister Javad Zarif indicated that there would be an immediate withdrawal of sanctions. Heinonen said that he believes that all the versions released in recent days were for "domestic consumption", and surmised that there is most likely a more detailed and specific document which the parties have all seen.
Olli Heinonen is a 27-year veteran of the IAEA who served as the organisation's deputy director general and head of its Department of Safeguards. He led and participated in international inspection teams monitoring nuclear facilities in numerous states, including North Korea, South Africa, Iraq, Syria and Libya.