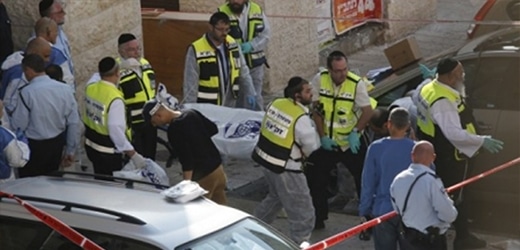 Prime Minister David Cameron and Foreign Secretary Philip Hammond have both deplored a terror attack on 18th November 2014 at a Jerusalem synagogue during morning prayer that killed four people, including one British citizen, and injured eight. The attack was Jerusalem's deadliest in six years.
The Prime Minister stated: "I'm appalled by today's horrific attack on worshippers at a Jerusalem synagogue. My thoughts are with the victims' families". Foreign Secretary Hammond condemned the "appalling" attack "in the strongest possible terms", calling on "all world leaders to step up and condemn this brutality".
The two terrorists, who are believed to have been cousins, entered the Har Nov synagogue armed with axes, knives and a pistol and attacked worshippers at morning prayer. Both men were shot at the scene by Israeli police.
The terror attack follows a series of deadly terror incidents in Israel over the past four weeks that have now claimed the lives of 10 people and injured dozens.