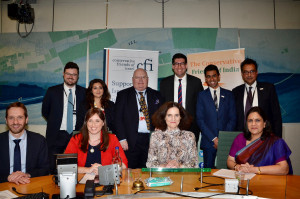 CFI and Conservative Friends of India celebrated 30 years of diplomatic relations between Israel and India this week at our first ever joint event, which was attended by 80 supporters.
CFI and CF India welcomed the Ambassador of Israel H.E Tzipi Hotovely and High Commissioner of India H.E Gaitri Issar Kumar, who led the discussion chaired by CFI and CF India Vice-Chair Rt. Hon. Theresa Villiers MP. Celebrating both countries as "global powerhouses for technology and innovation", Theresa Villiers thanked attendees for best ensuring that they "get a fair hearing".
The High Commissioner called the Israel-India relationship a "multi-dimensional strategic partnership", one in which defence has always been mutually beneficial to the protection of each country's citizens. She reflected on how the "the people of India and Israel go way back", calling to attention the historical trade links between the regions and how "Hebrew was taught in India long before the foundation of the State of Israel". Kumar referred to Israel's transition from a water deficient to a water surplus country as "a remarkable example to follow". She finished by calling Israel "a special friend" and added "we should do everything we can in London to supplement our relationships".
Ambassador Hotovely thanked India for the aid they provided Israel during the pandemic and for the historic operation of an Air India flight to Tel Aviv, which travels over Saudi airspace for the first time. She praised the growing economic ties of Israelis and Indians and how Israeli agricultural technology has allowed some Indian communities to almost double their agricultural output. Continuing, Hotovely compared the energetic democracies of the two countries, adding that in the global fight for democracy "we can't win alone" and that only through "freedom-loving countries" like India and Israel working together, can democracy prevail. She finished by saying as Israel and India's partnership goes from strength to strength, that the "Far East isn't far anymore".
Among MP's in attendance was International Trade Minister, Ranil Jayawardena, who confirmed the U.K Government's commitment to achieving an "ambitious" new trade deal with Israel over the coming year, which would not just include goods but also services.